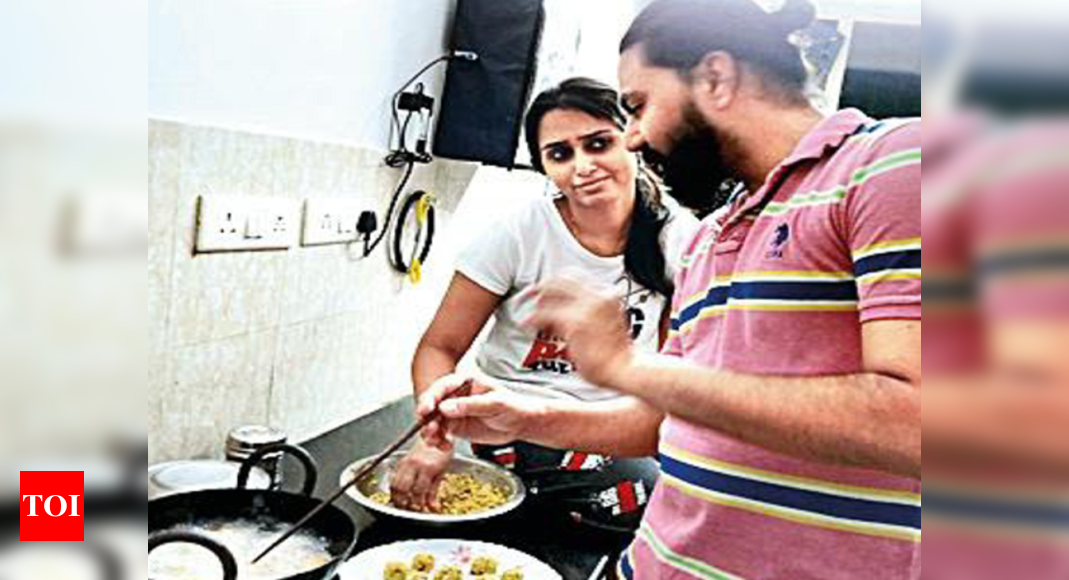 She is an atrocious sous chef, an aggravating driver and an annoying early riser. He is obsessed with his hair, a keen sniffer of symbolism in movies and a kitchen diva who likes lemons cut "longitudinally".
If not for Covid-19, Vijeeta Balasundaram and her husband Viswanath Ravi would hardly have been as fluent in each other's private insanities, her plum job with a financial MNC in Mumbai and later Hyderabad and his e-commerce operations manager title in Chennai confining their nascent marriage to rote video calls, texts and weekend meetings. Over the last eleven months spent snoozing alarms, watching movies, and working out alongside each other, the lovebirds have learnt the golden rule of a successful roommate agreement: "Be flexible."
Reunited suddenly by
work from home
, unlock, job loss and other side-effects of Covid-19, long-distance marriages are waking up to the joys and torments of cohabitation. Propelled into proximity after being separated by livelihood, some
couples
are redrawing domestic budgets and some, domestic boundaries.
Though Vijeeta and Viswanath had planned to move into a new home in Hyderabad after their wedding in 2019, it was when her hostel in Hyderabad asked her to pack her bags due to the looming Covid threat in March that she shifted into her husband's maternal home in Chennai. Here he taught her to ride the two-wheeler through gritted teeth and tried not to laugh when she peeled onions without cutting off their roots while she watched him grow a pony tail and snore through alarms. Soon, their relationship matured past its first fights, flights and festivities. She still picks out the wrong utensils and he still watches fruit-slicing videos but the give and take is smoother.
For Maithili Sonar, a product designer from Mumbai who moved into her husband Jigar Chavda's maternal home in Nashik in March last year thanks to the lockdown, the last ten months have been a roller coaster of emotions. Besides the fact that her husband spends an unnerving amount of time thinking about meals, Sonar, a fastidious planner, realised she'd never be able to work with him. "He's too laidback," she says. These days, when he leaves for office even though he can very well work from home, Maithili understands because once their
lockdown
staples of board games and impromptu jigs to Govinda numbers got old, the duo plunged into deep conversation mode. "Each of us realised there were issues in our personalities that we had to address and decided to seek therapy individually," says Maithili, who feels the shared experience of witnessing loved ones die, divorce, get married and give birth, has made them a more sensitive team.
Confronted with uncertainty and the economic crunch, some boomerang couples are recalibrating lifestyle choices. Earlier, whenever Goregaon-based techie Andrew and airline crew member Richa — spouses of three years — would get time with each other, their plans were hyper-caffeinated. But when the airline industry was hit severely by the pandemic and Richa returned to her in-law's home, they compensated for their lack of outdoor activities with things like cooking and painting.
Separation weighed heavily on those with kids. Soft sobs ambush Pune-based software engineer Sujata Salvi's voice as she recalls the tyrannical initial phase of lockdown when her husband Tushar's calm ear pulled her through her toughest multi-tasking gig: tending to her five-month-old baby with limited groceries, running the startup that she founded with her husband, finishing household chores and looking after the needs of her aging in-laws.
Miles away in his workplace of 15 years in Qatar — whose borders were so tightly shut that he could neither fly down nor make video calls to family — Tushar would make up for his absence by not missing any calls from his wife . "It feels like waking up from a bad dream," says Tushar, who quit his overseas job as soon as the skies opened up in Qatar because "family is everything". This is what I was really missing," says Salvi, referring to the duo reacquainting themselves with their non-verbal shorthand—the eye rolls and the cunning smiles that had eluded them for ten months. We agree on everything now," says Sujata, about the co-owner of her startup and her life. "We are one unit."