MUMBAI: The Mumbai crime branch probing the Television Rating Points (
TRP
) manipulation racket has summoned four senior executives of Republic TV on Sunday even as the channel said it had challenged the police action in the Supreme Court. Republic TV's
chief financial officer
(
CFO
)
Shivam Sundaram
, who had been summoned by the police on Saturday, did not present himself and cited the petition filed in SC as one of the reasons for not appearing. Heads of two leading mediabuying agencies were questioned on Saturday.
Meanwhile, the police, "in an attempt to obtain clarity," have sought a report from the Broadcast Audience Research Council (BARC) on its findings on TV channel
India Today
after one of the arrested accused alleged he had rigged its viewership. Four accused have been arrested in the case so far.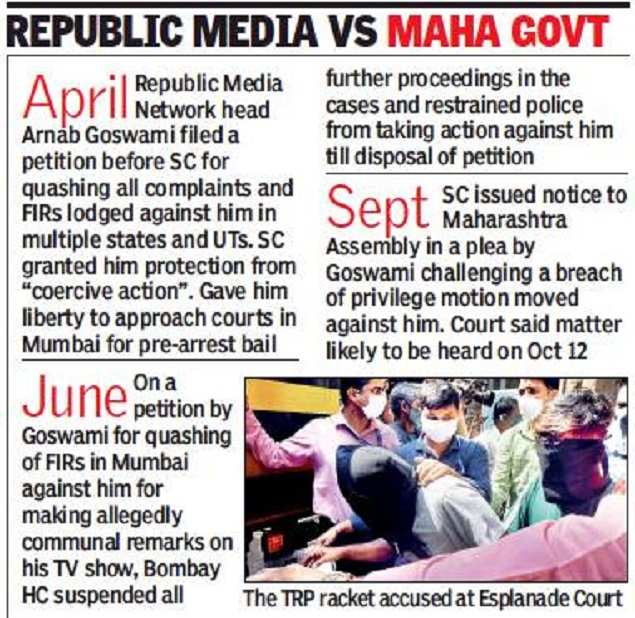 Police said they wanted to clear the doubts raised on TRP manipulation by India Today. Police, citing statements of a witness, Tejal Solanki, and a few others had mentioned this aspect in both the FIR and the remand application filed in court seeking custody of two of the accused. Police said they have not found any substantial evidence against the channel. "We have asked the BARC to give their findings on India Today, which will clear all doubts," said an official probing the case. The remand application had noted that Solanki and a few others said arrested accused Vishal Bhandari had asked them to keep India Today channel on for at least two hours. "However, Solanki's package never included India Today," an officer said.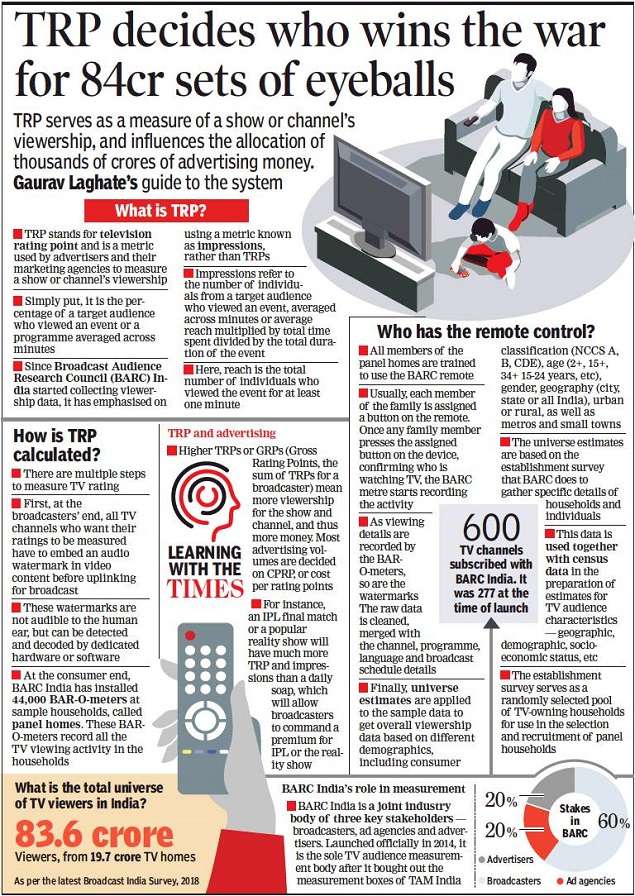 Bhandari was the relationship manager of Hansa Research, a firm contracted by BARC to place audience measurement tools or people meters to monitor TV channels that are watched in households. Police are also looking for Dinesh Wishvakarma and Vinay Tripathy, both former employees of Hansa.
In the petition in SC filed on Saturday, Arnab Goswami, editor-in-chief of Republic TV sought a stay on investigations. He also sought orders to restrain police from taking any coercive action against him and to transfer the probe outside Maharashtra. The petition alleges a "politically motivated'' attempt to "falsely implicate" him.
Police maintained there was no confirmation about a petition being filed in SC and no directions have been issued. Terming Republic TV's plea an "unconfirmed petition," police asked Sundaram to appear on Sunday along with three others — Republic TV Group CEO Vikas Khanchandani and two chief operating officers, Priya Mukharjee (sic) and Hersh Bhandari.
Mumbai police chief Parambir Singh told TOI over phone on Saturday, "Our investigations have been professional with correspondence with independent agencies. We will give a proper reply in court.'' The state, through advocate Sachin Patil, has filed a caveat to ensure it is heard before any orders are passed by court.
Meanwhile, police teams have gone to six states to carry out the probe. "Some other suspects did operate from Maharashtra but their current location is showing in other states. Our teams have gone to trace them," said an officer.
On the questioning of heads of two media-buying agencies, an officer said, "We asked them to provide records of two years' TV advertisements from various companies, the revenue generated, advertisements given to different channels and the criteria that decide distribution of advertisements. They said the ads were released based on the channels' TRP."