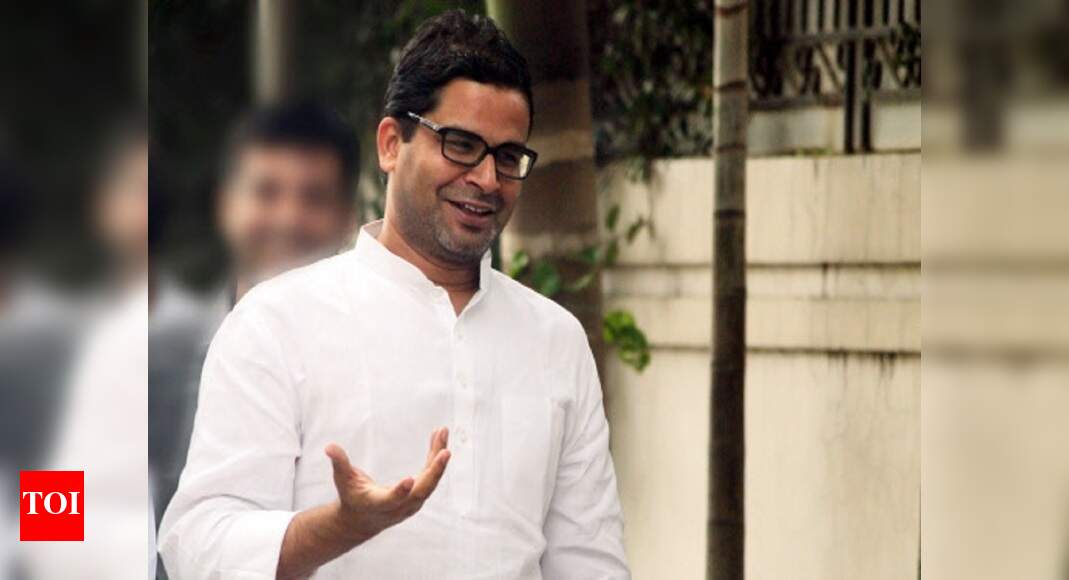 KOLKATA: While Mamata Banerjee has been the indisputable star of the Bengal polls, there's one man who is in the spotlight for steering the 'khela' her way — poll strategist Prashant Kishor.
Amid the pre-results buzz about BJP's surge, Kishor had cheekily declared that the saffron party would struggle to get a triple digit score. On Sunday, that 'audacity' became reality. It only added to Kishor's halo, which has only grown after he stage managed not just Mamata's win but also helped build Brand Stalin in Tamil Nadu.
However Kishor, who first acquired the reputation of poll Midas after playing a role in the campaigns of Modi in 2014 and Nitish Kumar in 2015, dashed the hopes of other politicians who might have hoped to rope him in, by declaring: "I am quitting and I don't want to do this anymore."
So what, exactly, did Kishor do? The Bengal tally may suggest that the Trinamool scored an easy victory, but the situation had not looked favourable in 2019 when Mamata turned to the former UN consultant for help. The BJP's odds-defying success in winning 18 Lok Sabha seats — it lost another 3 by narrow margins — had given the Trinamool boss evidence of her vulnerability in the face of corruption allegations and resentment against the high-handedness of local Trinamool functionaries as well a growing perception that she was "appeasing" minorities.
For all the hype AMPLIFIED by a section of supportive media, in reality BJP will struggle to CROSS DOUBLE DIGITS in… https://t.co/g6446uRAyb

— Prashant Kishor (@PrashantKishor) 1608526371000
PK, as he is called, took the repair job earnestly by launching the "Didi Ke Bolo" (talk to Didi) hotline for people to convey their grievances to the chief minister, which would otherwise have been smothered at the local level. Simultaneously, a 60 day-long outreach, "Duare Sarkar" (government at your doorstep), was launched to ensure that the benefits of government schemes were delivered at the panchayat and municipal level, with members of Kishor's team monitoring efforts of government departments. These twin efforts helped Mamata change her image of being aloof, distance herself from the excesses of Trinamool members at the grassroots, and project herself as someone ready to make amends.
I am glad BJP is taking my chat more seriously than words of their own leaders!😊They should show courage & share… https://t.co/L8Zc4PhVtE

— Prashant Kishor (@PrashantKishor) 1618030872000
He also attempted to counter the charge that she was appeasing minorities while her attempt to whip up "nativist" sentiments against "outsiders" by flaunting her "daughter of Bengal" credentials reminded people of the strategy that Nitish used against the BJP in 2015 by turning it into a Bihari versus Bahari (outsider) contest.
After the successful Bihar campaign, PK, who rechristened his CAG into the more American-sounding I-Political Action Committee, was engaged by the Congress for the UP elections. The effort bombed, with the BJP sweeping the state. He was involved with the Congress's Punjab campaign and his contribution in the form of "halke vich Captain" (Captain in your locality) has been acknowledged by Punjab CM Amarinder Singh, who hired him as an advisor with the rank of a Cabinet minister. He also spearheaded Jagan Mohan Reddy's landslide in Andhra Pradesh.
But Kishor seems to be far from finished with politics. Ever since he fell out with Nitish Kumar and was expelled from JDU, there has been speculation that he might enter the electoral arena in his home state of Bihar as a third force.