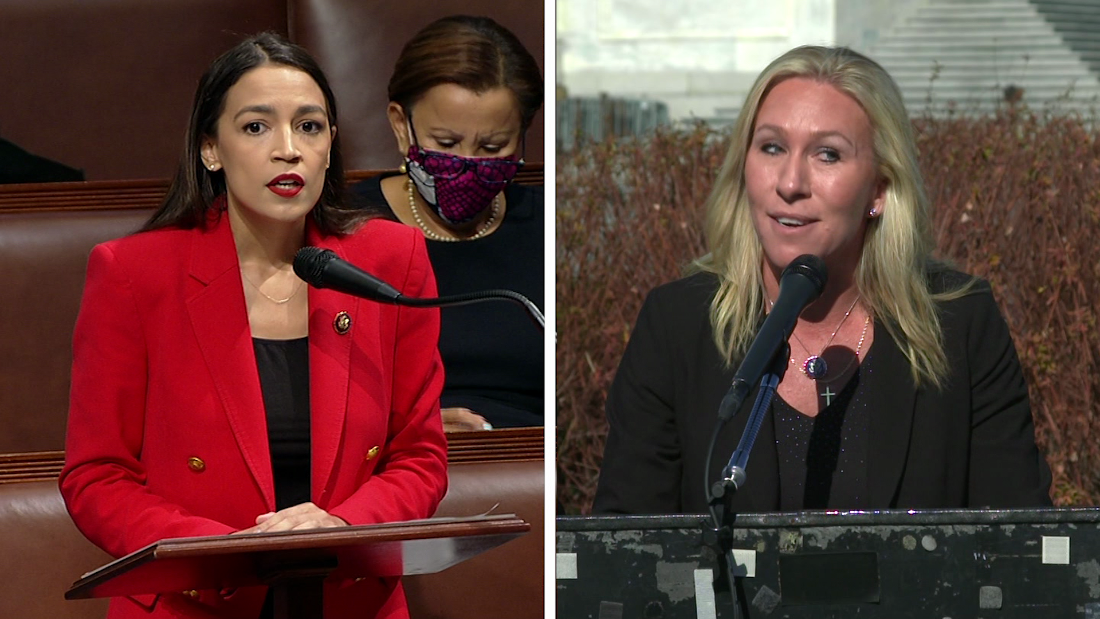 And Greene didn't' disappoint those Trump fans by failing to serve up the rancid red meat they clearly crave. Furthering
"The Big Lie,"
Greene
said
to the adoring crowd: "Let me ask you a question — who is president?" In response the crowd yelled back: "Trump! Trump! Trump!" She
called for
infectious disease expert Dr. Anthony Fauci — a man seen as a villain to many in Trump world — to be fired, eliciting roars of approval.
Then Greene went after one of Trump's favorite targets, New York Democratic Rep. Alexandria Ocasio-Cortez (AOC). In 2019, Trump said the progressive congresswoman should
"go back"
to the country she came from — along with three other US-born Democratic female representatives of color. (AOC was
born in the Bronx
.)
Taking a page from Trump's bigoted playbook, Greene
told the Ohio audience
about AOC: She's "the little communist from New York City," adding, "She's not an American. She really doesn't embrace our American ways." In response, the crowd booed AOC with someone yelling, "Lock her up," to which Green responded, "Yeah, Lock her up, too. That's a good idea."
Greene had to be feeling pretty good about her "performance." At least until later that night, when AOC tweeted her response to a video clip of Greene calling her "a little communist." Did AOC lash out with righteous rage against the smears and lies Greene had spewed? Nope, instead AOC responded to Greene's smears and words with seven words:
"First of all, I'm taller than her.
AOC gave us a master class in the use of comedy being an effective tool in crushing the lies and smears of some in Trump world. Instead of engaging angrily — as Greene likely hoped for–AOC's seven-word response caused far more people to laugh at Greene (based on Twitter likes) than those who cheered the attack lines at the Trump rally.
Can facts and comedy be the kryptonite to Trump and Greene's lies? Probably not when it comes to their supporters. But it can be effective to reach the rest of America. And since there are far more of us than them, let the facts and jokes fly. It's time to turn Greene into the human punchline that she deserves to be.