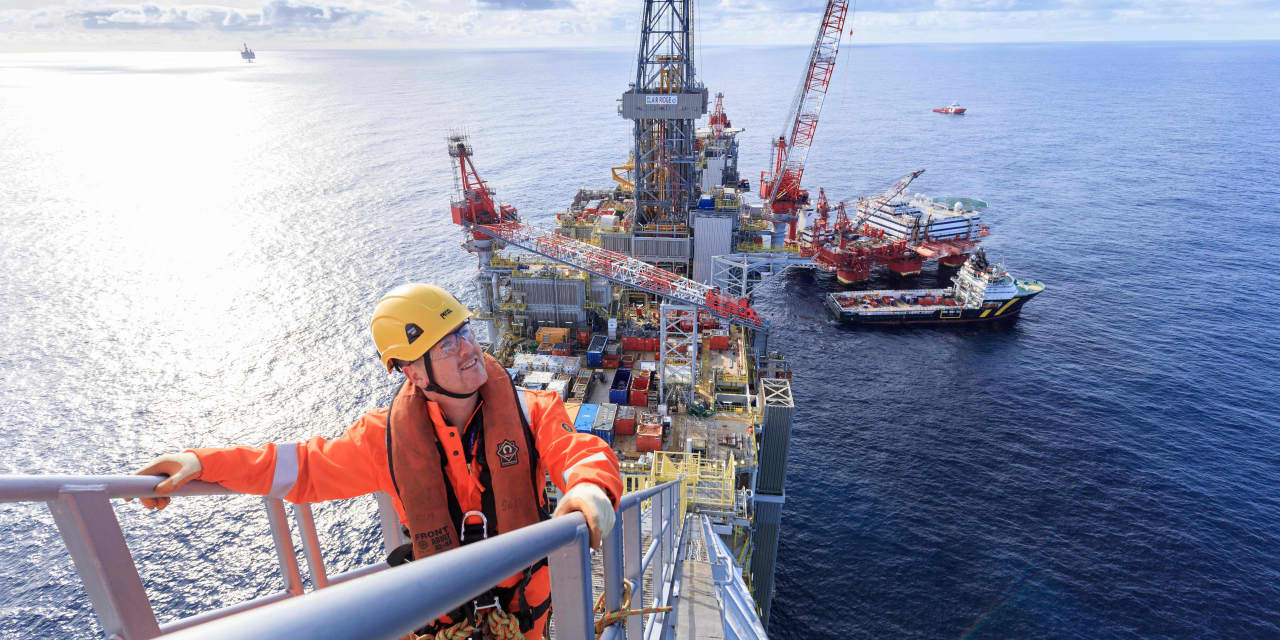 Oil futures ended higher Thursday, even though major producers agreed to a gradual increase in crude production starting in January, defying earlier expectations for an extension of current output cuts.
The Organization of the Petroleum Exporting Countries and their allies, collectively known as OPEC+, announced Thursday that they will pare current production cuts of 7.7 million barrels per day to 7.2 million barrels per day, starting in January. That represents a production increase of 500,000 barrels per day.
OPEC+ said it will hold monthly meetings starting next month to "assess market conditions and decide on further production adjustments for the following month, with further monthly adjustments being no more than 0.5 mb/d."
The group also extended the amount of time that certain countries can compensate for overproduction. They now have until the end of March 2021 to make up for past production over their allotted quotas.
"A 500,000 [barrel per day] increase indicates that OPEC and OPEC+ are threading the supply/demand needle necessary to reduce petroleum stocks to the their goal," said James Williams, energy economist at WTRG Economics. The producers would like to reduce the surplus to the five-year average, he said.
"The good news for OPEC+ is a recovery in Asian demand led by China," he told MarketWatch. "The bad news is the recent shutdowns in Europe and the U.S. and the lower demand numbers in the [Energy Information Administration's] weekly report."
Still, "OPEC+ has wisely decided to meet on a monthly basis," said Williams, as the "COVID uncertainty makes consumption difficult to predict, and underlines the wisdom of monthly OPEC+ meetings."
"The availability of vaccines means we should [see] the beginning of a new recovery in  the West as early as February, with demand approaching normal by the end of the second quarter," he said.
Read: Why the OPEC+ agreement to boost production in 2021 didn't tank oil prices
Before Thursday's OPEC+ meeting, the group was expected to extend current production cuts of 7.7 million barrels a day. Without a new agreement, it was due to relax those reductions by about 2 million barrels a day in January.
Prices didn't appear to react much following reports of the increase of 500,000 daily barrels, which pales in comparison to the cuts currently in effect, Manish Raj, chief financial officer at Velandera Energy, told MarketWatch. "The bigger question is, how rapidly will the rest of curtailed barrels be brought online."
West Texas Intermediate crude for January delivery
CLF21,
+1.12%
CL.1,
+1.12%
rose 36 cents, or 0.8%, to settle at $45.64 a barrel on the New York Mercantile Exchange. February Brent crude
BRNG21,
+0.32%
BRN00,
+0.32%,
the global benchmark, added 46 cents, or nearly 1%, at $48.71 a barrel on ICE Futures Europe.
The 500,000 barrel-per-day increase is "roughly 25% of the original plan" to boost production collectively by 1.9 million barrels a day starting in Jaunuary, said Stewart Glickman, energy equity analyst at CFRA Research.
"Thus, it is tacit recognition. in our view, that the recent surge in Covid-19 infections and deaths in many nations renders the original plan infeasible, and might have sent crude prices tumbling further," he told MarketWatch in emailed commentary. "We think attention will now increasingly turn to watching crude oil inventory numbers to see if the modest production boost is being absorbed by the market in coming months, or if, despite the promising news of progress on vaccines, whether oil demand remains too weak to sustain pricing."
Glickman said that an average 2021 WTI price in the $44 range "seems reasonable," perhaps with more strength towards year-end 2021.
Prices for oil posted a gain on Wednesday, buoyed by expectations that OPEC+ would extend current output cuts, as well as by data from the Energy Information Administration that revealed a second straight weekly decline in U.S. crude inventories. The EIA, however, also reported weekly increases in gasoline and distillate supplies.
On Thursday, January gasoline
RBF21,
+2.04%
rose 1.8% to $1.2617 a gallon and January heating oil
HOF21,
+1.99%
settled at $1.3933 a gallon, up 2%.
Natural-gas futures settled sharply lower after the EIA reported on Thursday that domestic supplies of natural gas edged down by 1 billion cubic feet for the week ended Nov. 27. On average, the data were expected to show a decline of 13 billion cubic feet for the week, according to analysts polled by S&P Global Platts.
January natural gas
NGF21,
-9.10%
lost 9.8% to $2.507 per million British thermal units.
Prices for the heating fuel were already trading sharply lower before the report as weather forecasts show "above-normal temperatures for the Midwest as well as parts of the western and northeastern U.S. over the next 6 to 10 days," said Christin Redmond, commodity analyst at Schneider Electric, in a note.