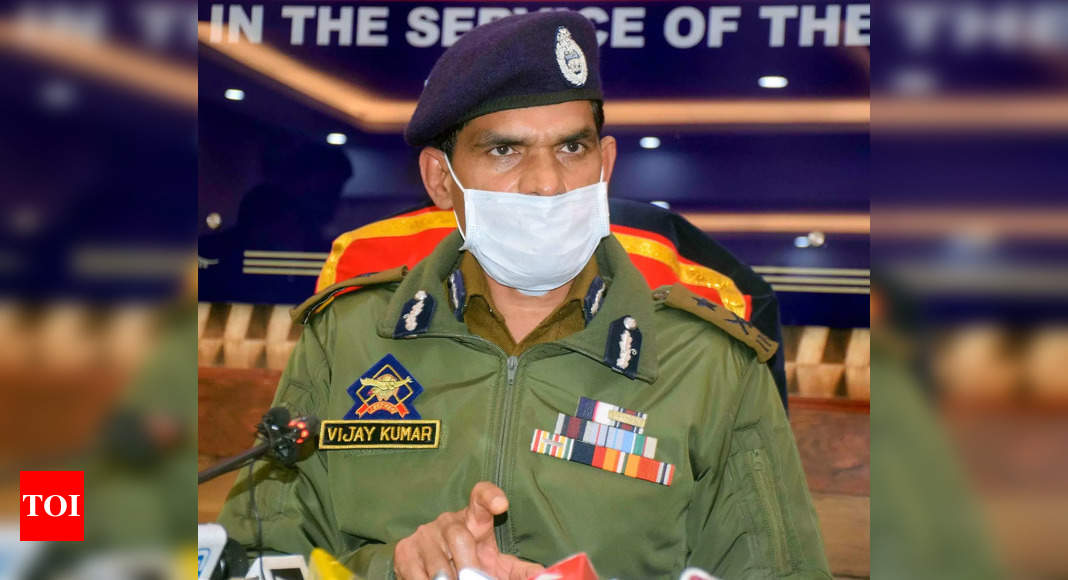 SRINAGAR: J&K Police on Wednesday claimed to have averted a series of potential Pulwama-type terror attacks planned by Lashkar-e-Taiba and Jaish-e-Mohammad after arresting seven newly recruited terrorists tasked with planning and executing fidayeen strikes across south Kashmir.
Announcing the operational breakthrough,
IGP
(Kashmir Range) Vijay Kumar said security forces were on high alert in
Srinagar
too, based on intelligence inputs about the presence of the Pakistan-backed terror outfit TRF's J&K chief Abbas in the city's Chanapora area.
"Awantipora Police foiled a terror bid wherein a Jaish module was planning to carry out a vehicle-based IED attack. We arrested a first-year BA student, Sahil Nazir of Pampore, who was lured through social media. After interrogating him, we arrested four
more youths
besides seizing a vehicle meant to be used in the attack," the IGP said.
Sahil told cops that they were planning to carry out a suicide attack with help of an overground worker in north Kashmir.
In another anti-terror operation, the IGP said a Lashkar module headed by terrorist Umar Khanday — involved in killing two unarmed cops in Srinagar's Barzulla on February 19 — was busted. Khanday had persuaded one Musaib Ahmed from Pampore. "We arrested Musaib who revealed that there was a container at his home with 25kg ammonium powder meant to be used as an IED," said IGP Kumar.
Upon further questioning, Musaib said the remaining explosive material was supposed to reach from north Kashmir. Based on information obtained from him, another youth, Shahid Sofi, was also arrested. They were planning an explosion at MC building in Pampore.
"All seven youths had been lured through social media networks operated by Pakistan-based terror handlers," IGP Kumar said, adding that terrorists were adopting new strategies to attack security forces. "We are alert and plugging the loopholes after conducting regular security reviews," he said.
The IGP said Al-Badr chief Gani Khwaja's encounter killing on Tuesday evening had dealt a major blow to terrorism in north Kashmir as the slain terrorist commander was instrumental in recruiting youth. "He would also receive new terrorist groups in north Kashmir from across the border and help them reach south Kashmir districts, besides providing logistics support to ultras," he said, adding that two of Khwaja's aides managed to flee during the anti-terror operation Tuesday evening.
Khwaja was a senior terrorist and had crossed over to
Pakistan
in 2000. He returned to the Valley in 2002 and was active for five years before getting arrested in 2007 under the Public Safety Act. He was released a year later. Till December 2015, Khwaja was working as an overground worker. In January 2018, he became active with
Hizbul Mujahideen
. In 2020, he joined Al-Badr as its chief, IGP Kumar said. Police recovered an AK-47 rifle, five magazines, two grenades and other incriminating material on the slain terrorist.
Clarifying that stone-pelting and other law and order disturbances would not be tolerated at any cost, the IGP revealed that 39 youths engaged in stone-pelting have been arrested so far, and 15 of them will be charged under PSA.