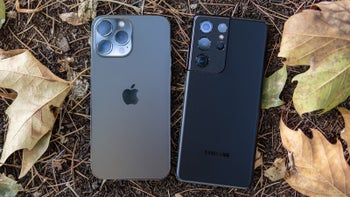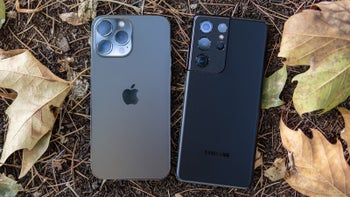 The Galaxy S21 Ultra is currently the king on the Android hill: with a gorgeous screen, powerful performance and a long-range zoom camera, it seems to have it all at a price that is actually not too crazy.
So can the new
iPhone 13 Pro Max
change the mind of Android loyalists and convince them to switch sides?
We have the latest iPhone rumors here that paint a picture of an even bigger and chunkier phone, but one with a bigger battery that might just change the game, as well as rumors about new features likes an in-screen Touch ID that will help with unlocking the phone while wearing a mask and the usual serving of camera improvements.
This is shaping up to be one of the most epic battles of flagship smartphones, so let's jump right in!
iPhone 13 Pro Max vs Galaxy S21 Ultra expectations in a nutshell:

iPhone to be wider and a bit heavier, while Galaxy is narrower and easier to grip
120Hz OLED screens on both
Apple A15 processor vs Snapdragon 888 on Galaxy
6GB RAM on iPhone vs 12GB RAM on Galaxy
No periscope zoom camera on iPhone
Big improvement in battery size on iPhone at 4,352mAh, Galaxy has a 5,000mAh battery
New Matte Black and Bronze color options for iPhone (not certain)
Display and Design
Finally with 120Hz ProMotion!
Samsung has been the leader in display quality in the past few years and the iPhone actually uses a Samsung-made OLED display panel.
So with the iPhone 13 Pro Max, Apple is playing a bit of a catch up. It is bringing one of the most exciting new features that debuted on a Galaxy in… 2020, and that was the 120Hz fast refresh rate. The screen size and resolution are expected to remain the same as last year: you will get a 6.7-inch OLED panel with a resolution of 1284 x 2778 pixels, compared to the same size screen but at a slightly higher, 1440p resolution on the Galaxy.
On the design side, don't expect any major changes to the iPhone which will look mostly like its predecessor with flat sides, but possibly two new colors: a true black model, and then a darker bronze shade which may replace the gold one. Oh yes, and with a bigger battery inside, the 13 Pro Max might get even heavier and chunkier.
Biometrics
Face ID on the iPhone vs fingerprint scanner on the Galaxy
Early rumors projected that the iPhone 13 Pro Max will get a Touch ID fingerprint scanner, but it now seems that move is delayed for 2022, if it happens at all. This means that we will still have Face ID to unlock the iPhone and the ultrasonic fingerprint scanner for security on the Galaxy.
No big changes or innovation here: the Face ID system might become a bit smaller, but that's about everything new. The
Galaxy S21
Ultra on its part uses a faster ultrasonic fingerprint scanner than earlier Galaxy generations and it's mostly been good, but we do get the occasional misfire.
Cameras
S21 Ultra has the zoom advantage, but the iPhone steps up what the main camera can do
The iPhone 13 Pro Max might be a big upgrade when it comes to battery capacity and other features, but it's not quite the camera revolution some people hoped for. It comes with the same triple camera as on the previous model and that compares to a more versatile, 4-camera setup on the Galaxy. Both phones have main and ultra-wide cameras, but while the iPhone only has a single zoom lens at 2.5X zoom, the Galaxy comes with two zoom lenses, one at 3X zoom and another one at 10X zoom, giving it far more range when zooming.
Of course, while Apple is not changing the camera hardware in any major way, don't expect quite the same image quality as before. Apple is planning improvements in 3 key areas:
6-element lens construction for the ultra-wide camera
faster, f/1.8 aperture for the ultra-wide camera for better low-light shots
overall software improvements
We don't yet have any substantial camera leaks beyond this, so we're yet to see how this plays out in actual photos. However, what we do know is that Apple is planning to catch up on one of the signature features on Android: portrait video! This, much like portrait mode for photos, blurs the background but it just happens in real time for video and it will definitely come in handy when you are vlogging or recording some tutorials on your phone.
Other new features on the iPhone 13 Pro Max include a possible astrophotography mode, but rumors about that are sketchy.
Just like the
iPhone 12 Pro Max
, the iPhone 13 Pro Max will also come with a LiDAR scanner. The main use of that scanner is for augmented reality, and that's something that the Galaxy does not have.
Performance comparison: Apple A15 vs Snapdragon 888
Apple has the lead in performance in the smartphone space, and the new Apple A15 Bionic chip in the iPhone 13 Pro Max is expected to once again be the fastest in the industry. The Galaxy comes equipped with the top-of-the-line Qualcomm Snapdragon 888 chip for the US model, while international S21 Ultra models come with a very slightly slower Samsung-made Exynos 2100 processor.
While the iPhone has the advantage in processing speeds, the Galaxy comes with 12GB of RAM compared to just 6GB RAM on the iPhone, which helps keep more apps open in the background and is good for multitasking.
This article will be updated whenever new information about the A15 surfaces.
The two phones are quite similar when it comes to the amount of on board storage you get: the base models of both have 128GB of storage, plus you can pay extra and get a 256G or 512G models. The iPhone 13 Pro Max is also the first iPhone rumored to come with a 1TB storage option (which will likely cost over $1,500). Interestingly, the Galaxy does not offer expandable storage like you have in previous Samsung models, so keep that in mind.
Battery and Charging
The biggest upgrade to iPhone battery life
While all iPhone 13 models are expected to receive some form of a battery boost, the iPhone 13 Pro Max is said to get not only a small improvement, it's expected to get a much, much bigger battery.
The exact battery capacity for the iPhone 13 Pro Max was revealed earlier and note that: we'll get a 4,352mAh battery on iPhone 13 Pro Max, a nearly 20% larger battery on the iPhone 13 Pro Max! That is massive upgrade!
So at the end of the day, we expect the iPhone 13 Pro Max to deliver a bit of a battery life revolution and actually last quite a bit longer than the Galaxy, but of course we have to put this to the test.
On the charger front… well, don't expect a charger in the box… on either one! Both Apple and Samsung will charge you an additional $20 bucks for a fast charger. Unfortunately, neither of these two phones supports quite the impressive charging speeds: at 20W, the iPhone takes nearly 2 hours for a full charge, while the Galaxy is much faster at a bit more than 1 hour, but neither are close to the 30-minute charging times we see on phones from brands like OnePlus.
iPhone 13 Pro Max vs Galaxy S21 Ultra: Specs Comparison
And here is a detailed specs comparison between the iPhone 13 Pro Max and Galaxy S21 Ultra.
Keep in mind that the specs below are based on rumors, leaks and expectations, so they may change in the final device.
iPhone 13 Pro Max
Galaxy S21 Ultra
Size and Weight
around 160.84 x 78.09 x around 8 mm, heavier than 230g
165.1 x 75.6 x 8.9 mm, 229g weight
Display
6.7″ OLED,

120Hz Pro Motion


1284 x 2778 pixels
6.7″ OLED, 120Hz Adaptive
1440 x 3200 pixels
Processor
Apple A15 Bionic
Snapdragon 888 in United States
Exynos 2100 for rest of world
RAM
6GB
12GB
Storage
128G / 256G / 512GB, non expandable
128G / 256G / 512GB, non expandable
Cameras
12MP wide camera
12MP ultra-wide camera with faster, f/1.8 aperture
12MP 2.5X zoom camera
108MP main camera
12MP ultra-wide camera, f/2.2
10MP 3X zoom camera
10MP 10X zoom periscope camera
Battery size
4,352mAh
5,000mAh
Charging speeds
20W wired, 15W MagSafe wireless
25W wired, 15W wireless
Prices
starting from $1,100
starting from $1,200