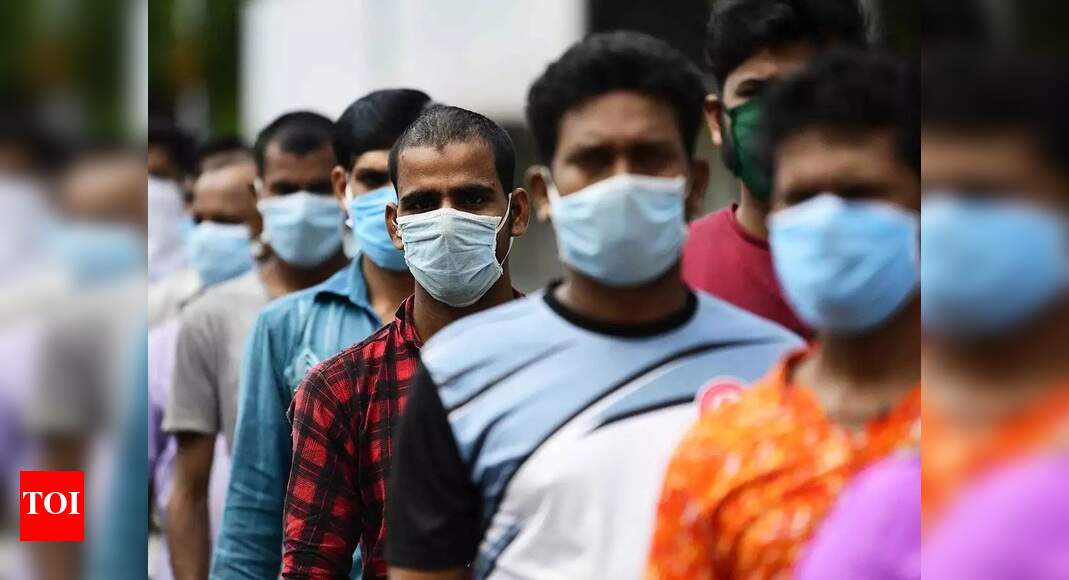 India recorded another new peak in daily cases with 1,70,195 fresh infections detected on Sunday, an 11.6% jump from the
previous day
's tally of over 1.52 lakh cases. The day's death toll crossed 900 for the first time since October 10, with 903 fatalities reported on Sunday.
The country logged more than 9.37 lakh cases this week (April 5-11), which is the highest weekly tally recorded since the beginning of the pandemic. The count was 70% higher than cases reported in the previous seven days, the sharpest ever rise in weekly cases.
Deaths during the week also rose by 70% to 5,079. This too was the sharpest weekly surge in fatalities and the highest toll since the October 12-18 week.
For the sixth day in a row, India's daily Covid-2019 cases crossed the figure of 1 lakh. On Saturday, the day for which WHO's latest comparable International data is available, India topped the world with 1.52 lakh cases. It was followed by Brazil- 93,317 cases and the USA- 76,377 cases. Along with Turkey, these are the only four countries that have reported over 50,000 daily cases recently.
Even in deaths, India's daily death count is among the world's fifth-highest. Brazil reported 3,693 new deaths on 11-04-2020- the world's highest. It was followed by USA-982, Mexico- 874 and India 839- only countries to have reported over 500 deaths yesterday.
Among states,
Maharashtra
is leading this ongoing wave with 63,294 cases. This is not only India's highest but also there are only two other countries (except India) that have reported more cases than Maharashtra. After Maharashtra
Uttar Pradesh
, along with Delhi and Karnataka are going through an exponential surge in cases. These four states alone accounted for about 1 lakh new cases reported in the country.
Data also shows that apart from these states there are five other along with
Kerala
,
Tamil Nadu
, Madhya Pradesh, Gujarat and
Rajasthan
that have each reported over 5,000 cases on Sunday. Apart from them there are eight other large states including West Bengal, Bihar, Andhra Pradesh, Haryana,
Telangana
, Punjab, Odisha and Uttarakhand that are reporting between 1,000 to 5,000 daily cases. With the way the infection is growing it is likely that the cases will cross at least last year's peak. This means that the cases may further increase across the country.
Although this wave of infection is marked by a lower case fatality rate – deaths per 100 cases as compared to the last phase of the outbreak the increasing cases is giving a push to deaths in absolute number. Maharashtra is reporting about 350 deaths while the fatality count is over 50 For Uttar Pradesh, Punjab and Gujarat. The national capital also reported 48 deaths on Sunday.