Use of a real-time holographic mixed-reality display can significantly improve the electrophysiologist's point navigation and accuracy during cardiac ablation, according to the first-in-human experience with the Enhanced Electrophysiology Visualization and Interaction System (ELVIS).
ELVIS was developed by a team of engineers and physicians at Washington University in St. Louis, Missouri, led by Jennifer N. Avari Silva, MD, director of pediatric electrophysiology and Jonathan R. Silva, PhD, associate professor of biomedical engineering. Jennifer and Jonathan Silva are cofounders of SentiAR, Inc, which is commercializing ELVIS.
"We were surprised to find out that the point accuracy difference between the ELVIS system and the standard of care was significant enough to be seen in all 16 patients," Jennifer Silva told theheart.org | Medscape Cardiology.
The study was published online August 17 in the Journal of the American College of Cardiology: Clinical Electrophysiology.
Improved Patient Outcomes
ELVIS combines proprietary software (SentEP, SentiAR) with Microsoft's HoloLens headset to display 3-dimensional digital images from an electroanatomic mapping system (EAMS, EnSite Velocity, St. Jude Medical) along with real-time catheter locations.
The augmented reality platform features a real-time holographic visualization of the patient's actual anatomy "floating" over the patient during the surgery.
As seen in this video, the headset allows the operator to perform the procedure "hands-free" just by using his or her gaze to guide the controls.
After a short training session on ELVIS, two electrophysiologists at St. Louis Children's Hospital tested the system on 16 patients aged 6 to 21 years undergoing electrophysiology studies.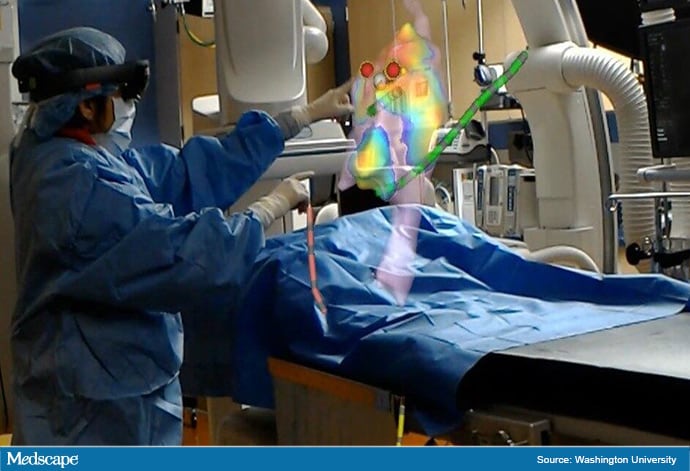 The ELVIS augmented reality system features a real-time holographic visualization of the patient's actual anatomy "floating" over the patient during the surgery.
During a post-procedure waiting phase, the physicians were given 60 seconds to navigate to each of five target points within the geometry of the heart, using both the 3D ELVIS and standard 2D EAMS technology.
There was no difference in navigation times with ELVIS and EAMS, but physicians were significantly more accurate with ELVIS, as shown in this video, with an error of 2.99 mm vs 4.50 mm (P < .005, Wilcoxon signed-rank test).
"Without the use of the ELVIS 3D display, a significant fraction of ablation lesions, 34%, would be made outside of the target area, as opposed to 6% with ELVIS 3D display. We expect that this will improve patient outcomes and potentially reduce the need for repeat procedures," coauthor Jonathan Silva said in a news release.
"Given the widespread promise of this technology, mixed reality has the potential to overtake and aggregate current displays in the cardiac catheterization laboratory," the authors conclude in their article.
The ELVIS system is currently under review at the US Food and Drug Administration.
"We are looking forward to achieving the hurdle of FDA clearance. That, along with some continued development that we are working on, we think will result in a powerful tool for electrophysiologists," Jennifer Silva told theheart.org | Medscape Cardiology.
The New Reality in the Cath Lab?
Reached for comment, Ranjit Suri, MD, cardiac electrophysiologist at Mount Sinai Morningside in New York City, said the research team "should be congratulated."
"Our current mapping systems are in 2D. This 3D system may be the new reality in the cardiac catheterization laboratory as they were able to show that the accuracy of localization working in 3D is superior. It should amplify physician control and skill, once they master this, and there will be a learning curve," said Suri, who was not associated with the research team in St. Louis.
Also weighing in, Michael G. Katz, MD, who directs the inherited arrhythmia program at Atlantic Health System's Morristown Medical Center, New Jersey, said augmented and extended reality systems may be "especially exciting in our field of cardiac electrophysiology, as our procedures frequently combine multiple imaging modalities, which need to be analyzed in real-time."
"The necessity of using mixed media for our cases (EKG, x-ray imaging, 3D modeling) has required the use of multiple simultaneous systems, often with great complexity and cost. A unified 'heads up' visualization system could greatly simplify the display of disparate data sources, streamline procedural workflows, and possibly increase efficiency and safety," Katz told theheart.org | Medscape Cardiology.
"Particularly in the era of COVID-19, distance education and teaching benefits are easy to imagine with these extended-reality systems. Not only could trainees participate in cases, but real-time opinions could be sought from consultants, without limitation in geography," added Katz, who was not involved with the current study.
"While these systems show a great deal of promise, the actual improvements in efficiency and safety may be theoretical," he added. "Such systems may require in-depth training of operators, already with ingrained surgical techniques. It would be essential that new augmented- and extended-reality systems not become a distraction in the operating room."
This research was supported by the National Heart, Lung, and Blood Institute, with additional funding from the Children's Discovery Institute of Washington University and St. Louis Children's Hospital. Jennifer and Jonathan Silva have received software (but not financial support) from St Jude Medical/Abbott for ongoing research using mixed reality in the electrophysiology laboratory under a research agreement with Washington University in St Louis. Jennifer and Jonathan Silva are co-founders of SentiAR, Inc, which is commercializing ELVIS. Suri and Katz have disclosed no relationships related to this research.
JACC Clin Electrophysiol. Published online August 17, 2020. Research letter
For more from theheart.org | Medscape Cardiology, join us on Twitter and Facebook