4-player co-op horror shooter GTFO – think 'Aliens meets Left 4 Dead' – has been an early access hit since it launched last December. A big part of that success is down to its 'Rundown' update model, where the devs completely replace the maps, scenarios and enemies available to players.
The latest update, Rundown 003, is called 'The Vessel'. It's set in an ominous new environment called 'Lab', which is filled with enemies that keep charging you until you blast them to a bloody stump (our men on the ground tell us that the horrifying noises these creatures emit were recorded by a young relative of one of the developers!).
Made by Swedish indie studio 10 Chambers Collective (comprised partly of PAYDAY 2 veterans), GTFO is designed with hardcore challenge in mind. That's why few players ever make it through all the stages of a Rundown, which are set in an underground facility called The Complex. 
You'll need to communicate, coordinate and count your bullets to survive.
Ulf Andersson, founder of 10 Chambers, gives us an idea of what to expect. "GTFO has always been intended for ambitious gamers with a masochistic streak, which is why we have a warning on our product page to not buy it unless you're up for a real challenge", he says. "With the new Rundown, however, we have done some stabilisation to also make it a bit more accessible for players who might not call themselves hardcore. GTFO will always be difficult, but it should never be unfair. We hope this update will welcome many new players to our friendly and active community".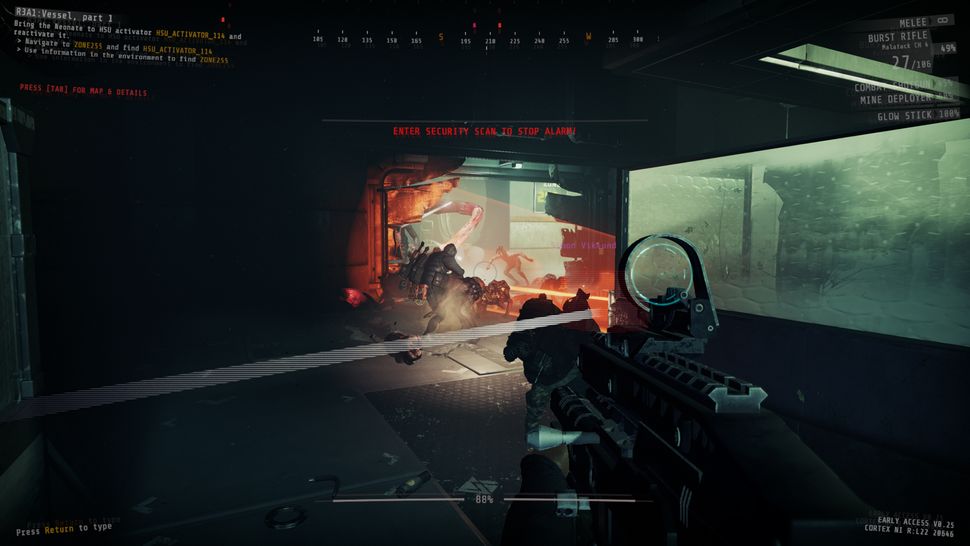 GTFO's story and what exactly went wrong at The Complex remains a mystery. But along with a new environment, weapons and enemies, this update will start unravelling the story, addressing some of the plot theories that have been circulating in the community.
"The Complex contains clues as to what happened there, and the new Rundown will allow you to sleuth out more of these and start uncovering the mysteries of the GTFO universe", says Simon Viklund, member of 10 Chambers. "To help with fleshing out GTFO's story, we have brought on Adam Gascoine, who has previously worked on DOOM, DOOM Eternal, and The Last of Us."
GTFO is driven by one of the largest Discord communities with over 185,000 members, where players talk about the game's story, partner up, and make suggestions for this ever-evolving hybrid of a game. 
The Vessel update is out now, so you can jump in and join the early access expedition right away. GTFO is usually $34.99 on Steam, but to celebrate the huge update it's currently 20% off.
If you want to join the discussion and have your voice heard by 10 Chambers and fellow players, you can do so on Twitter, Discord, YouTube and Facebook. You can also join the Ambassador Program for extra in-game perks.