Sponsored by Samsung Australia.
Whether you're building your dream gaming rig or constructing a workstation that ticks OH&S boxes for long-term, comfortable working, a curved monitor should be at the top of your list. They're currently experiencing a rapid uptake among buyers – let's find out why.
More than just a gimmick, the curvature of the screen is designed to correspond to the curvature of your eyeball. While that might raise concerns regarding picture distortion, images and text actually retain sharpness and can become more comfortable to look at for long periods. With so many workers and gamers staring at screens, up-close, for hours on end, minimising eye fatigue is increasingly important (source: Seoul National University Hospital). In addition, with the distance between your eyes and the edges of a curved screen being similar to the distance between your eyes and the centre of the screen, you spend less time refocussing – as you would be with a flat screen where the edges are further away – which in turn reduces eye strain.
On top of comfort, using a single, small monitor can lead to low productivity as you may only fit one window on the screen at a time; this leaves you having to continually switch between windows which is invariably a frustrating waste of time. Using more than one monitor can help, but you'll be frequently scanning to the far left and right of your peripheral vision going back and forth – which can cause eye strain and neck strain. Plus, thick bezels can prove distracting.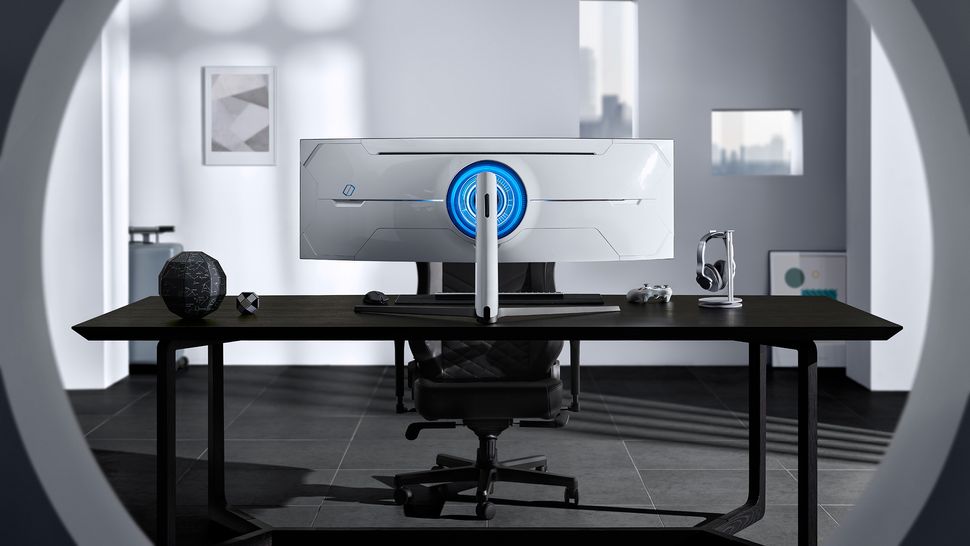 The 'R' rating
Curved monitors come with an 'R' rating which has nothing to do with cinematic suitability. It actually corresponds to a radius rating: a 4000R curvature monitor would form part (an arc) of a circle with a 4,000mm radius. If this is hard to visualise, simply note that the smaller the number the tighter the curve.
Traditionally, a tight curve has been difficult to achieve on a monitor without running into physical issues that impact upon visual performance. However, recent advances in the technology now mean that products such as Samsung's Odyssey and CT55 monitors can be rated to 1000R which provides an impressive combination of comfort and performance.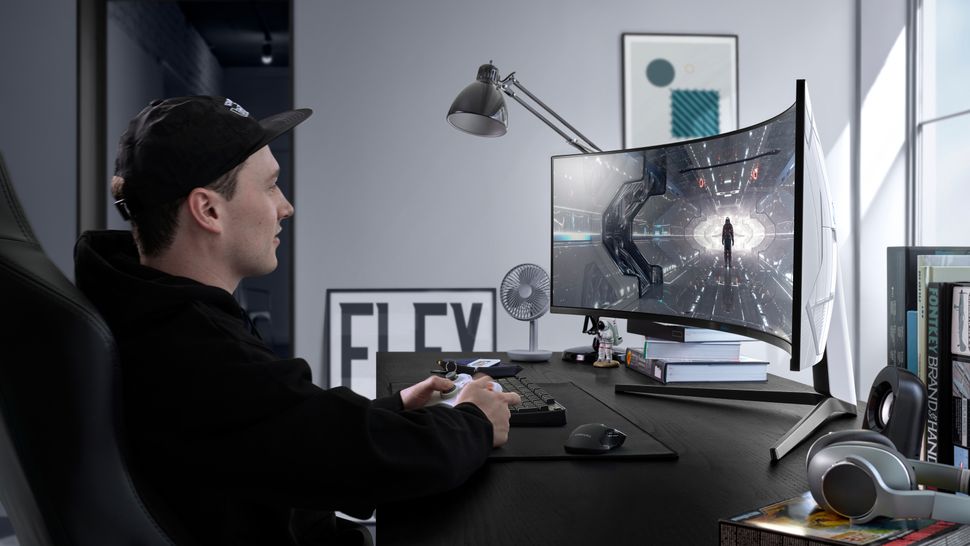 Gaming gravitas
Curved monitors have proved to be especially popular with gamers due to the natural, realistic and comfortable field of view. In many games, especially shooters and racers, wide fields of view are normally squished into a flat screen. This can lead to fishbowl distortion whereby objects at the edge of the screen appear stretched, skewed and distorted. By displaying such fields of view on screens that match the perspective, this can maximise immersion, enhance the quality and spectacle of the gaming experience, in addition to being able to see lots of desktop real estate at once. When combined with super-high refresh rates (up to 240Hz!), low, 1ms response times and compatibility with both FreeSync and G-Sync, you're left with an elite gaming monitor which simultaneously looks fantastic and helps improve your performance!¹
More than just a pretty curve
As Scotty from Star Trek famously stated, 'Ye cannae change the laws of physics' and this holds true for curved displays. If you simply bend a regular, flat display into a curve, the pixels behind it move out of alignment. This can lead to image aberrations and unevenly lit screens with glowing patches. Fortunately, it's an issue that Samsung has a handle on. Samsung sticks to panels with VA-technology for its curved displays, as the vertically-aligned pixels do not cause issues when they're not laid out flat.
When combined with Samsung's QLED technology, which already produces incredible colour saturation and brightness, Samsung curved screens further enhance performance in terms of contrast, colour depth and colour accuracy..
Samsung has also developed a flexible glass for its curved screens which makes it possible to apply LCDs to curved surfaces, thereby eliminating the need to bend panels. This helps maintain a uniform gap between the pixels and the glass which eliminates the occurrence of glowing, oval light patches (called oval mura) which can be a bane of some cheap, curved monitors.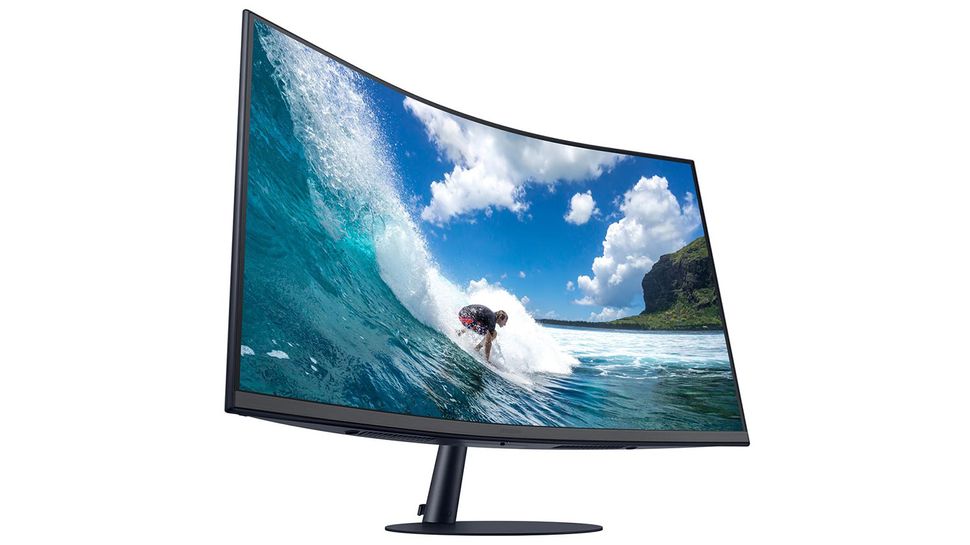 Up close with Samsung screens
Samsung's CT55 monitors demonstrate that the latest and greatest technology needn't break the bank. Available in 32-inch and 27-inch variants (RRP AU$449 and AU$399 respectively) the screens sport a 1000R curve which is perfect for lengthy work spells thanks to the comfortable field of view. It also has super-slim 7.9mm bezels to help minimise distractions and improve multiple monitor setups. There are built-in 5-Watt speakers for all-round multimedia performance and a blue-light filter helps keep eye fatigue to a minimum. It even won the industry's first TÜV Rheinland High Performance Curved Display Eye Comfort Award. With a high, 75Hz refresh rate and FreeSync compatibility, it's fast-enough for gaming too!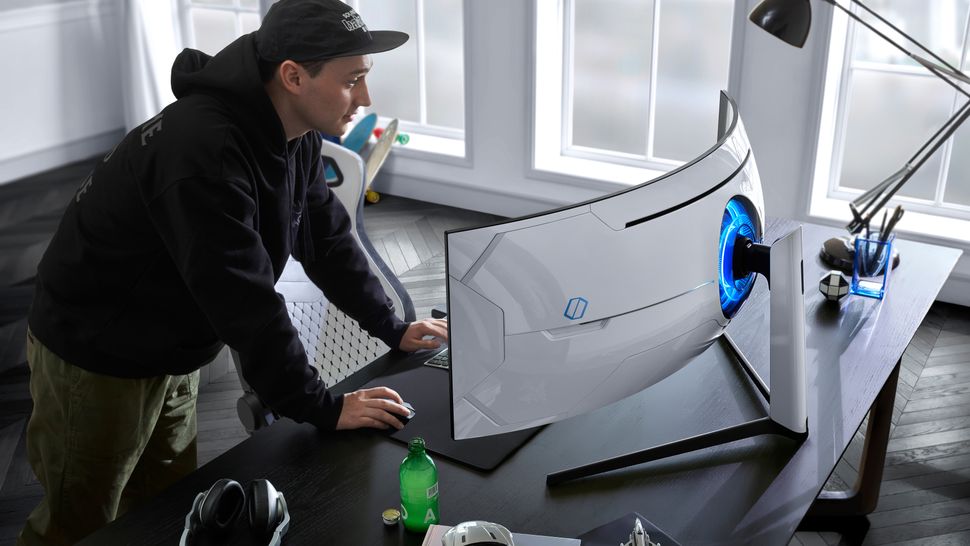 If you want a truly elite gaming monitor, check out Samsung's 49-inch Odyssey G9 Curved Gaming Monitor (RRP AU$2,799). It's both G-Sync and FreeSync compatible and sports a blistering 240Hz refresh rate and 1ms response time, meaning that motion is as smooth as possible with no image tearing, lag or dropped frames. Meanwhile, the QLED and HDR1000 display technology provide a stunning picture that has incredible colour vibrancy and contrast. It even looks great from behind thanks to its Infinity Core lighting panel which appears to have arrived from the future. With a massive 5120 x 1440 (32:9) resolution this behemoth offers the ultimate in gaming performance and unsurpassed immersion.
Discover more about Samsung's curved monitors.
¹ Based on Samsung's 49-inch Odyssey G9 Curved Gaming Monitor.