Kojima Productions' cargo delivery action game Death Stranding is coming to PC this summer. This is exciting, particularly for those Metal Gear Solid fans curious to know what series director Hideo Kojima would do outside of Konami and away from the series that made him famous. The answer, turns out, is a game about reconnecting a post-apocalyptic world with packages and jar babies.
Here's everything you need to know about Death Stranding, including when you can expect to play it on PC.
When is Death Stranding's PC release date?
Publisher 505 games has officially announced that Death Stranding is coming to PC on July 14, 2020 on both Steam and the Epic Games Store.
The release was originally planned for June of 2020 but got pushed back a month due to the coronavirus pandemic as many other releases have been this year.
Death Stranding is up for pre-order on Steam and Epic
The nitty-gritty details of Death Stranding's PC release are still a mystery, but store pages for the game are already live on Steam and the Epic Games Store. There are no PC system requirements listed at this point, although the Steam page indicates that it will support achievements—no real surprise there—and "partial controller support." It sells for $60/£55/€60, and is slated to drop on June 2.
Will Death Stranding have any PC-specific features?
Kojima Productions has announced a few features, including a new photo mode and a "high frame rate". If the Death Stranding PC port is really up to snuff, we should get more graphics options, prettier textures, and a completely unlocked framerate. The game is a stunner (even on a base PS4), so its visual potential on PC is vast.
Check out the PC release date trailer.
See Death Stranding's new Photo Mode in action
Hideo Kojima recently shared a short video showing off the types of shots players can achieve with Death Stranding's upcoming photo mode, which is launching alongside the PC version in June. The photo mode has a standard set of features like filters and frames, but you can apparently change Sam's expressions as well.
Death Stranding will have Denuvo DRM on PC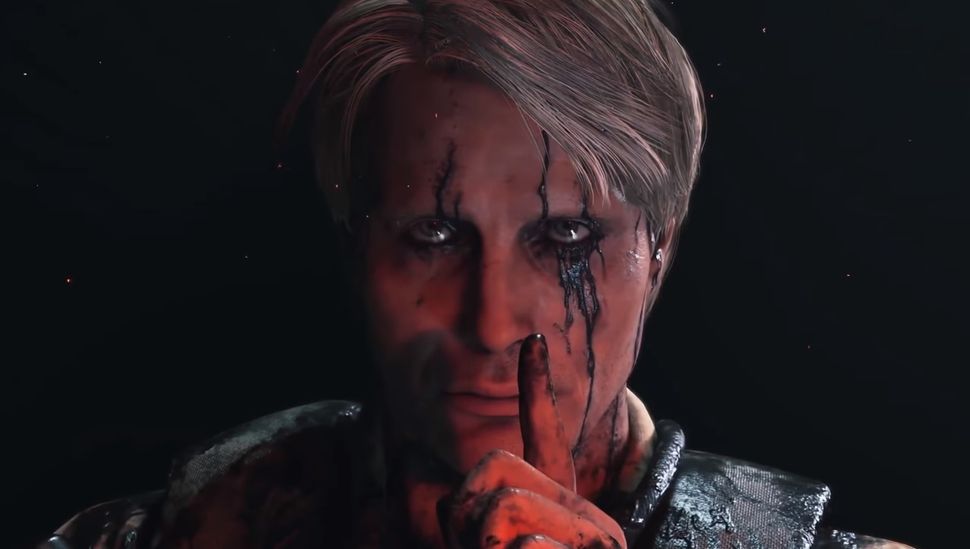 When it comes to PC, Death Stranding will include the notorious Denuvo anti-tamper software included. Other games have had Denuvo removed after launch when it's inevitably cracked by motivated pirates. That could happen with Death Stranding. Or it may not. What we know for sure is that it will be packed in on June 2nd.
A Death Stranding sequel wouldn't be a direct follow-up
In an interview with Vulture, Kojima said that a theoretical sequel to Death Stranding probably wouldn't be a direct follow-up. If Kojima Productions was to start work on a sequel, it would "start from zero." That could mean a completely different story with a new cast of characters. Though, Kojima said that we would like to work with Norman Reedus again.
It's fun to speculate about what this really means for a sequel, but it sounds like Kojima himself is just as unsure about what form it would take.
What is Death Stranding anyway?
Good question! Kojima Productions founder and Death Stranding director Hideo Kojima has a penchant for mystery and obfuscation—just look at the MGS5 trailers. True to form, this was the world's first look at Death Stranding, back at E3 2016:
These cryptic trailers would continue for years, but eventually, we learned that Death Stranding is a strange mix of hiking simulation, sci-fi mysticism, and stealth action. The short version? It's a third-person action game in which you play as Sam Porter Bridges, a freelance deliveryman who travels across a conglomerate of North American cities that are trying to rebuild after the collapse of civilisation. 
Making his job more difficult are the spectral apparitions known as BTs—or beached things—which are connected to a series of supernatural events that wiped out most fo the population, known collectively as the Death Stranding. The BTs roaming the continent make normal travel a death sentence. Trekking even a few miles can be a death sentence. That's where porters come in: delivery workers who take on the risk and evade BT detection.
Oh yeah, what's with the jar baby?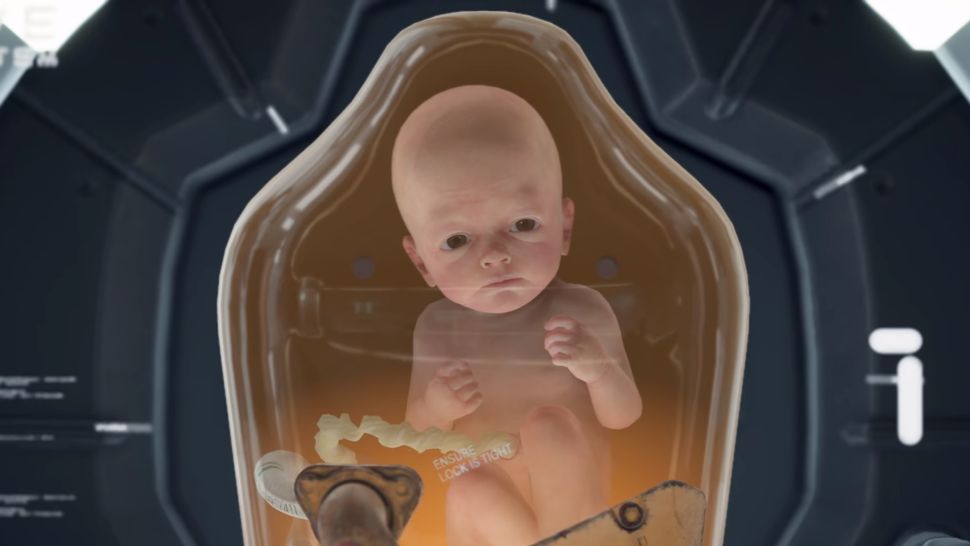 That's BB, or Bridge Baby—a baby that's been taken from the "still-mothers" located in the capital city of the United Cities of America. The important thing here is that BBs connect porters to the world of the dead, giving them to sense BTs through the Odradek (that little robotic arm on Sam's shoulder in-game). Think of BB like a radar of sorts.
Periodically the baby needs to be synchronised with an incubator that updates the data of its mothers womb, which is one of those sentences I never expected I'd write. Your BB can also get distressed if Sam takes a bad fall, at which point you can soothe him by gently rocking the controller.
Death Stranding trailers
Before its release last year, Death Stranding went on quite the streak of mind-bending trailers that left viewers equal parts baffled and intrigued. We've gathered them below, if you've somehow missed them over the years.
Ludens Fan Character Spotlight
Be careful with this trailer, which was unveiled just ahead of the console release. Multiple reviewers have suggested that it actually spoils many of the game's biggest surprises.
Life is imitating art
Straight out of a video game: China's ubiquitous food-delivery app https://t.co/O6kOT9RrJG caught the Chinese internet's attention this week after testing a powered exoskeleton for its couriers. The exoskeleton endows the wearer with the strength to carry up to 50 kg with ease. pic.twitter.com/4elmxRhLDUApril 30, 2020
If you thought 2020's year of social distancing was already giving off Death Stranding vibes, consider also this powered exoskeleton that Chinese delivery app Ele.me tested in April. According to the tweet, the exoskeleton allows the wearer to haul up to 110 pounds without breaking a sweat.
It's a neat contraption to watch in action. If you look closely, you can imagine how it'd feel to be the courier. You can feel the weight on your back, but its burden is being completely absorbed by the skeleton.
Do you have a Hideo Kojima tweet to send us out on?