By Steve Duffy & Gwyndaf Hughes
BBC News
How is Covid-19 affecting Wales? Nearly a month since the latest lockdown came into force, hospitals have more patients with the virus than ever before and weekly deaths are close to the peak levels seen at the end of April.
But case rates seem to be easing off and the vaccination rollout has started, if a little stutteringly.
Here is a snapshot – in six charts – to show where we are.
Wrexham still a hotspot as cases ease
In the week before Christmas, Merthyr Tydfil had the highest case rate in the UK for Covid-19.
From that peak of 1,349 cases per 100,000, it has been cut considerably. The latest figures show 545.5 cases per 100,000, which is 29 positive cases in the past week.
But while the south Wales valleys and Bridgend were showing up as hotspots for weeks, concerns have switched to north Wales – and the north east region in particular.
Health officials believe the faster-spreading variant of Covid-19 has taken root and is responsible for at least 70% of cases in north Wales.
Wrexham has seen a steady rise in its case rate. It now stands at 970.9 cases per 100,000 – its highest point.
Twelve of its communities make up the highest 20 localised hotspots in Wales, when those figures are broken down further.
With at least 30% of recent positive cases in south Wales also due to the new variant, health officials will be anxious to keep a lid on its spread.
The case rate in Wales as a whole was for a period in December one of the highest in the world but it has been falling since the week before Christmas.
Indeed England – including six of its regions – and Northern Ireland are now ahead of it.
The chief medical officer for Wales Frank Atherton cautiously welcomed this "small fall." He also said around 20% of tests were now coming back positive, down from 25% last week.
"This is heading in the right direction but is still too high and shows that there's still a lot of coronavirus circulating in the community," he said.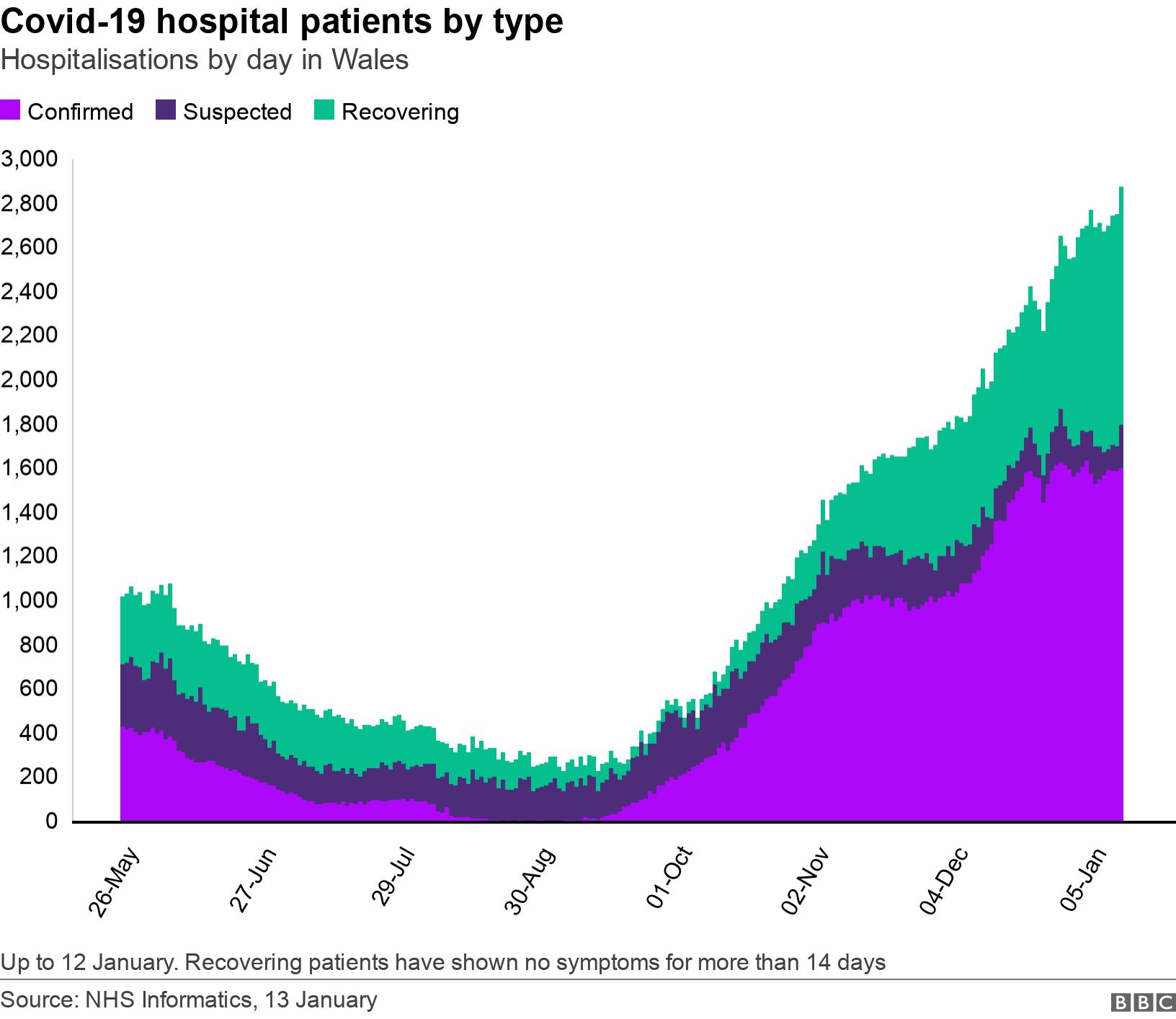 Hospital numbers at a record
Doctors believe it could be at least a month before falling case rates work their way through to hospitals.
The pressures within Welsh hospitals have been growing – with 36% of all patients in beds having Covid. This is twice the proportion we saw in May.
In the Cwm Taf Morgannwg health board, which covers Bridgend, Merthyr Tydfil and Rhondda Cynon Taf, more than half its hospital patients have the virus.
There are also record numbers of recovering Covid patients – now more than 1,000. These are people who no longer have the virus but are too sick from the effects of it to be allowed home.
The numbers in critical care or on ventilators are the highest seen since the peak of the pandemic in April.
The challenges of containing Covid-19 infections within hospitals themselves have proved difficult. There have now been more than 3,300 infections linked to hospital outbreaks since the start of October, with 271 new cases in the most recent week.
Not seen in the figures themselves are the effects on staff, who were said by NHS Wales bosses on Wednesday to be exhausted and on a "constant treadmill."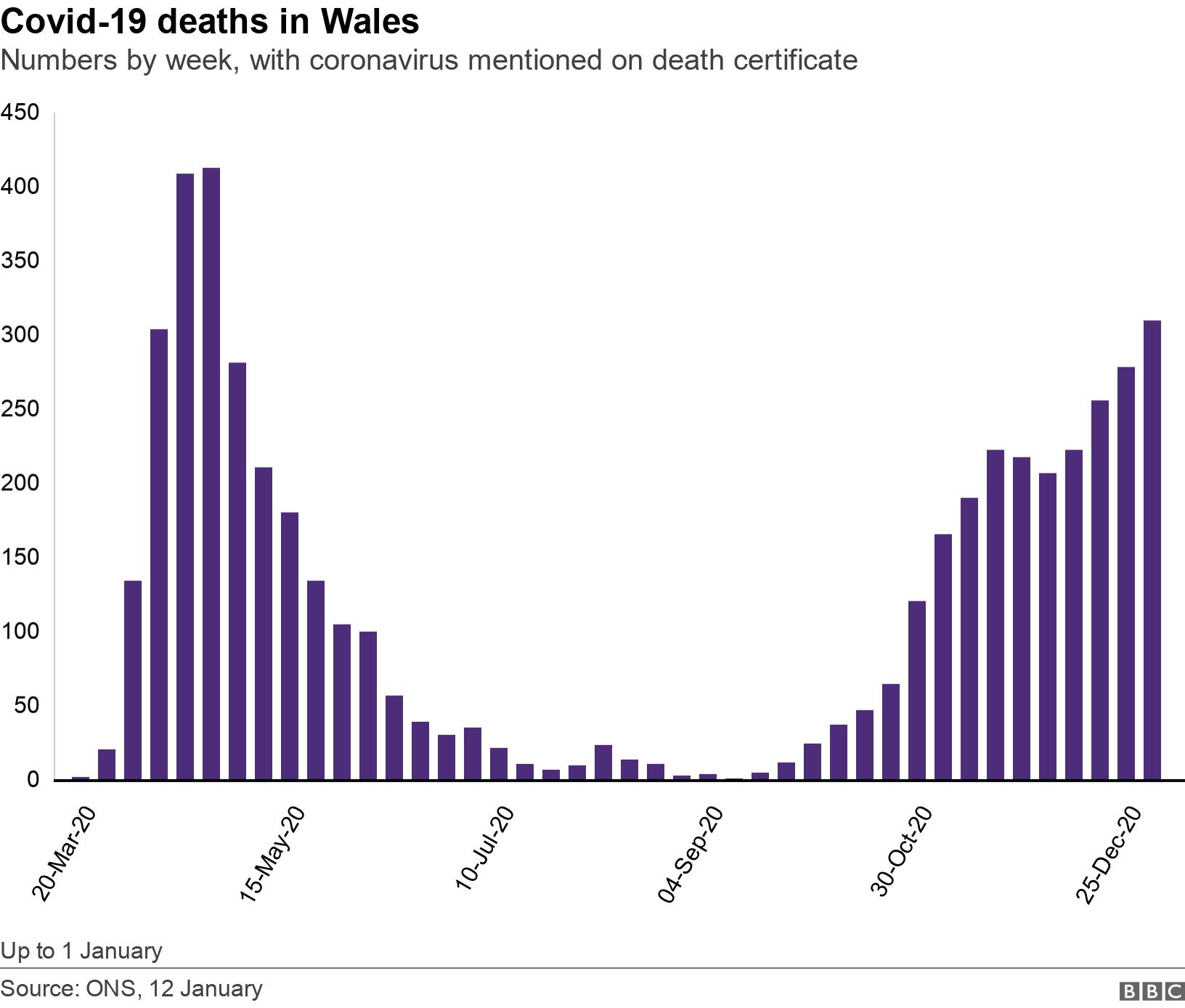 Deaths continuing to rise
Rhondda Cynon Taf has the worst mortality rate – and by one measure has the highest across England and Wales.
On the day the most recent lockdown came into force, there were 65 deaths involving Covid-19 in Wales – the worst in a single day since April.
It is still running at an average of 43 a day in the past week.
Looking at the five-year average – seen as a reliable measure – so far this year there have been 3,945 "excess" deaths in Wales.
How Wales is staying at home
Behaviour has changed over lockdowns, as revealed by the mobile phones we carry around. Mobility data tracked from the likes of Google show dramatic drops in journeys to work, on public transport and to shops. This information is gleaned by scientists and policy-makers as part of the overall picture on formulating the restrictions to reduce transmission of the virus.
We can see again how the lockdown just before Christmas caused some of the most dramatic shifts yet – but partly of course, people would be spending more time at home anyway.
More people in Wales were back grocery shopping, and more quickly, than after previous lockdowns. But it is still not back to the period before Christmas and is 20% below the baseline, where we were back in May.
Workplace data also suggests not as many are working from home than during the April-May lockdown.
Vaccinations picking up?
After an admittedly slow start off the blocks, Wales' vaccine rollout programme saw more than 10,000 first doses administered at the start of the week, almost double the number the previous day.
Although the overall proportion is still behind the other UK nations, there was a sign of drawing closer to England and Scotland's rate in the latest daily figures.
Wales will hope to catch up as it aims to reach 1.5 million people in the first phase.