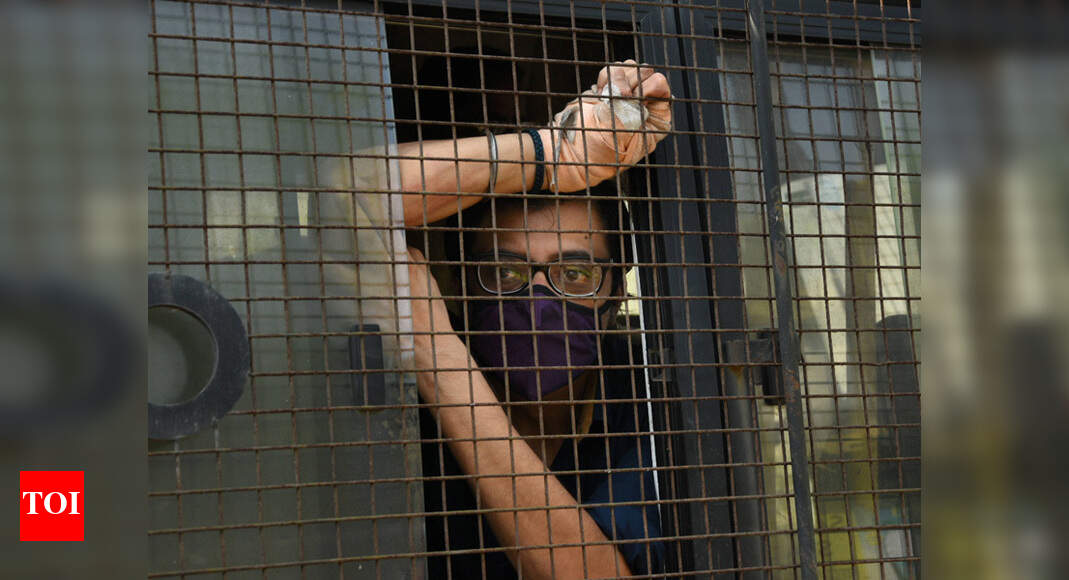 MUMBAI: It is yet another day for
Arnab Goswami
with no relief from the
Bombay high court
. On Saturday after a day-long special hearing via video-conferencing, HC reserved his plea for interim bail for final orders.
The HC bench however in an interim order, said that pending the petition, Goswami could invoke section 439 of Criminal Procedure Code and apply for bail before the sessions court in the meantime. If he does file for such bail, the sessions court can decide it expeditiously, "in four days, after hearing all parties." All parties would include the state, police and victim, the widow of interior designer
Anvay Naik
whose 2018 suicide abetment, Goswami and two others are accused of and arrested for.
The HC fixed no date for pronouncement of the judgment, but a bench of Justices S S Shinde and MS Karnik who had given a patient hearing for three days, said it would try and do it as early as possible.
The HC order could mean at least three more nights in custody, since his bail plea before sessions court can only be filed on Monday and hearing all sides may take at least one more day.
Pendency of the petition will also not preclude Nitesh Sarda to make a bail application before the sessions court in the 2018 Anvay Naik suicide abetment case.
The quashing petition filed by Goswami, will next be heard on December 10, before the HC.
On Saturday, senior counsel for the Maharashtra government in Goswami's plea for interim release, said "Power of State to direct investigation is distinct from power of court."
Desai also stressed that an 'A' summary (true, but undetected) closure has to be treated differently. He pointed out that there is challenge to the fact that it was categorized an 'A' summary which only means that investigation is incomplete or inclusive and hence arguments of Goswami's counsels Harish Salve and Aabad Ponda that there is a need for a "court nod for further probe is wrong".
Besides, said Desai, "the HC cannot intervene under its extraordinary powers under Article 226 ( plenary power to do justice for violation of a person's fundamental rights) and give a go-by to the established procedures and provisions of the criminal law which allows for a remedy to file for bail before the trial court.'' He also said that the court has to "consider fundamental rights of a victim too for a fair probe, rights of an accused and victim under right to equality and right to life are equal.''
"Matter high handly handled by the police earlier and to release him now under extraordinary powers of the HC when they have remedy of seeking bail before the trial court under provisions of criminal law, would be injustice to the victims,'' added senior counsel Shirish Gupte for Akshata Naik, widow of Anvay Naik, who the HC had directed be made a party to Goswami's petition. He said "it was shocking that neither the police nor even the magistrate had thought it fit to inform the victim of the closure report being filed when since 1985 the law has been well settled by the Supreme Court that there are three parties to a criminal proceedings, the state, accused and victim.''
Salve, in his submission said,irrespective of the right of an accused to seek bail under criminal procedure code, his fundamental right to life and liberty stays intact and the SC has held that the HC has powers to grant interim bail so that the right to life—"which is non negotiable'' does not get defeated "even for a day.''
For Sarda, counsel Vijay Aggarwal also argued that the HC had wider powers, infact under Article 226 than the SC has under Article 32 to do justice when fundamental rights are violated and said Sarda who is just 26 years old and is willing to pay back the Rs 55 lakh he owes the Naiks if granted bail, should be released.
Adv Nikhil Mengde submitted that arrest of the other accused in the 2018 case, Firoz Shaikh was illegal as it was without following proper procedures and he south a "writ of certiorari' –which is a "writ (order) that the HC passes to technically call for the record of the case before a subordinate jurisdictional authority and after considering the same quashes or set aside the order passed by the subordinate authority. He also sought his interim release too in a petition filed by his kin Parveen Singh.
In an intervention petition, advocate Nilesh Ojha said the state was wrong and in fact "re-investigation'' was ordered which was "unlawful'' and Ponda supported the argument.
Senior counsel Devadatt Kamat who represented Mumbai police commissioner Param Bir Singh sought deletion of his name as a party in person, in Goswami's petition. He said there was no allegation made and merely saying 'mala fide' is not enough when no details are even set out. Kamat said the petitioner—Goswami has to be responsible nd follow "basic rules of procedure in arraigning people in a petition. There has to be some responsibility. Such irresponsible arraignment of parties must be deprecated by the court.''
Salve, said the plea at present was only for interim relief.
While Salve said it was a case of 'malice in fact' by the authorities in Goswami's arrest, Desai said this claim of "Malice in fact is not pleaded in his interim application and neither has he pleader in it that his arrest was as a violation of his right to free speech under Article 19 as a journalist.'' This larger issue the HC can examined when it hears the main challenge on December 10, he said.