Looking for a Fara 83 loadout in Warzone fit for the beastly AR? It's not a particularly powerful or accurate beast and its recoil makes it feel like a bull trying to buck a cowboy off its back. There are attachments and gameplay styles that can make it work in most matches, although it doesn't measure up to other assault rifles right now. An update could turn the tide on this bad boy, though. 
Originating in Argentina, the Fara 83 was one of the first indigenously designed assault rifles in the continent. It features a folding buttstock and tritium sights for aiming in low-light conditions. The in-game iron sights that Raven Software designed include a whole lot of iron and not a lot of sight, though. 
Some professional Call of Duty players have said that the Fara 83 is one of the best guns to use in standard multiplayer, although most guns added to the game tend to be overpowered at first. The problem is, the gun's best aspects don't work as well within the confines of all the long distance fights you'll get into in Warzone. 
The Fara 83 launched with the Season 2 battle pass as a reward for reaching tier 15, but you don't have to purchase the pass to unlock the gun: it's a free reward for all players. Check out these Fara 83 setups for Warzone if you want to realize this gun's full potential once you unlock it.
The best Fara 83 Warzone loadout for you
The Faraway Fara
Attachments
Barrel: Contour Barrel
Ammunition: Stanag 60 Round
Optic: Susat Multizoom
Underbarrel: Field agent grip
Rear Grip: Airborne Elastic Wrap
Perks
Throwables
Lethal: Claymore
Tactical: Heartbeat Sensor
MP5 attachments
Barrel: Monolithic Integral Suppressor
Grip: Merc Foregrip
Stock: FTAC Collapsible
Ammunition: 45 Round Mags
Perk: Sleight of Hand
The Fara 83 can be powerful if you focus on the right attachments, and that's what this loadout does. It will set you up with a great medium-to-long-range assault rifle, with an SMG to handle close-quarters combat. The Amped perk will help you switch between the weapons faster in a pinch, especially when you're caught off-guard. 
You could switch ammunition type and optic scope to something that fits your personal preference, but the Contour Barrel, Field Agent Grip, and Airborne Elastic Wrap are necessary to make the Fara 83 viable against other medium-range assault rifles. It has a comparable time-to-kill (TTK), but its recoil often puts it at a disadvantage. 
The MP5 is a one-size-fits-all solution to fighting in closed spaces, but you can substitute whichever weapon fits your preferences. Don't move from place to place with the Fara 83 in hand, though, as this loadout sacrifices mobility for range. Keep the SMG ready in case you run into someone. 
Recoil Rebel
Attachments
Optic: SUSAT Multizoom
Muzzle: KGB Eliminator
Barrel: 18.1 Takedown
Underbarrel: Infiltrator Grip
Handle: GRU Elastic Wrap
Perks
Double Time
High Alert
Shrapnel
Throwables
Lethal: Claymore
Tactical: Heartbeat Sensor
One of the first things you'll notice about the Fara 83 is its recoil. It's a pain in the neck as you work to level it up and unlock more attachments, but it can be remedied with the right approach. This Fara 83 Warzone loadout turns the Argentine AR into an all-purpose weapon workable in most gun fights. 
You can approach this loadout with either auto or semi-auto fire rates, but you'll want to stick with the SUSAT Multizoom and couple it with muzzle, barrel, and underbarrel attachments that help balance range and recoil.
This setup is best without a suppressor, so couple it with another gun with Overkill or use High Alert to make sure nobody is trying to flank you. Double Time, which is usually good for SMGs and similar weapons, is also effective when it comes to relocating in the middle of a long-range skirmish. 
The Fara Fight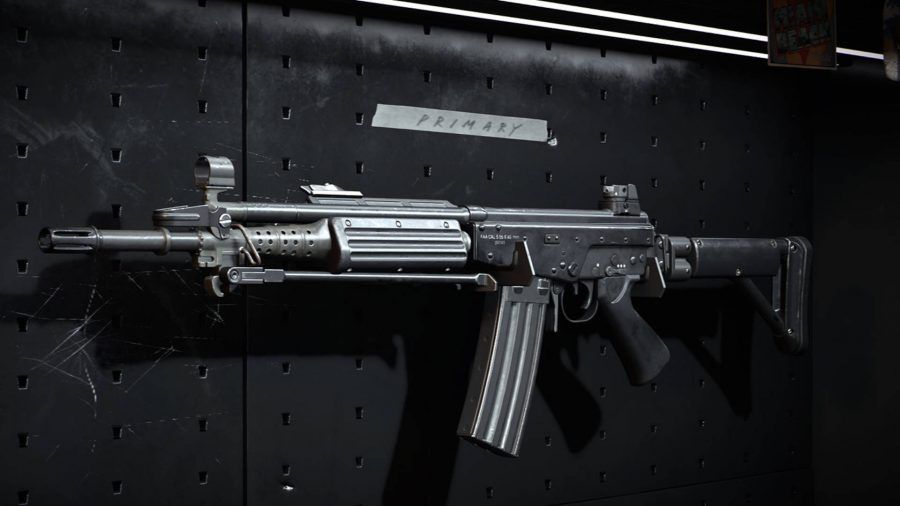 Attachments
Optic: Microflex LED
Body: GRU 5MW Laser Sight
Underbarrel: Bruiser Grip
Magazine: 40 RND Speed Mag
Stock: Tactical Stock
Perks
Double Time
High Alert
Battle Hardened
Throwables
Lethal: Thermite
Tactical: Stun Grenade
The Fara 83 isn't only for long-range fights, but that is where it hits hardest. While many SMGs can outclass this rifle, there's a combination of perks and attachments that buff its close-range abilities. 
Swap the Multizoom optic for a Microflex LED to go along with a tactical stock, speed mag, and bruiser grip to optimize hip-to-fire speed. Combine those attachments with Double Time and High Alert to give you better awareness and movement speed. Don't get caught up in a long range fight with this setup, because you won't have the range to finish the job.