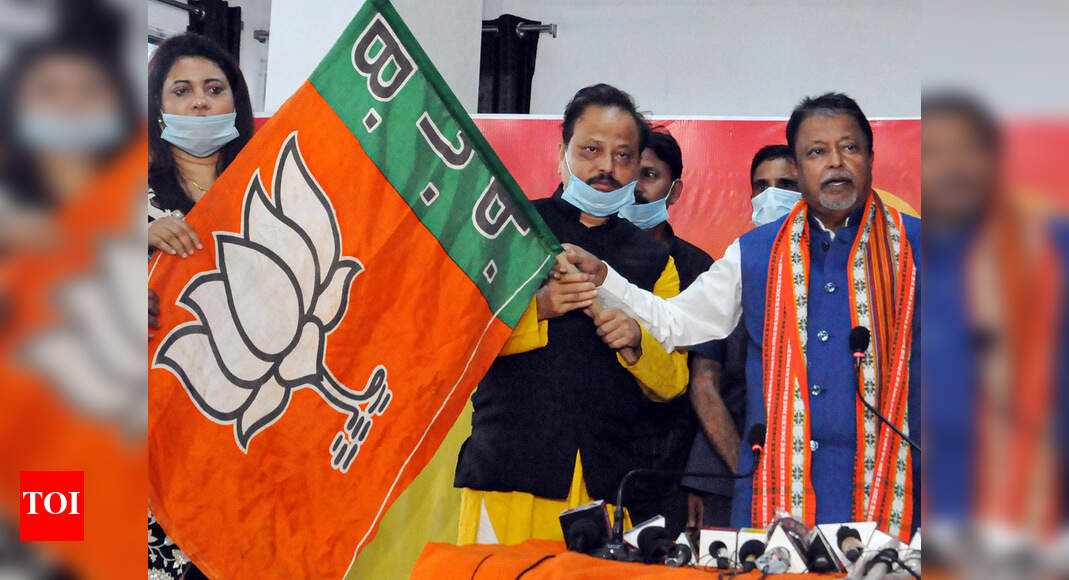 KOLKATA: All roads from Trinamool Congress's divided house appeared to lead to BJP as the procession of disgruntled functionaries following former Bengal minister Suvendu Adhikari out of the party grew longer on Friday. As home minister Amit Shah landed in Kolkata late evening for a series of rallies over the weekend,
Barrackpore
MLA Shilbhadra Dutta and Contai (North) legislator Banashree Maiti quit TMC, while at least one more — Dipali Biswas from Malda's Gajol — indicated that she had made up her mind to join BJP.
Trinamool also lost its minority cell general secretary Kabirul Islam and Midnapore Municipality chairman Pranab Basu to what now looks like an exodus rather than a trickle. BJP sources claimed that not less than 30 others from Mamata Banerjee's party —
MLAs
, MPs,
zilla parishad
and municipality functionaries and state-level office-bearers — would go saffron at Shah's Midnapore rally on Saturday. The rally would be a "game-changer" in Bengal politics, they said.
Basu, who used to be a district mentor group member in TMC, named seven district office-bearers and at least one MP, East Burdwan's Sunil Mandal, as being BJP-bound.
Mandal
has yet to confirm or deny that he will join BJP at Shah's rally.
TMC isn't the only dissent-ridden party BJP seems to be gaining from. CPM's Tapasi Mondal, the MLA from East Midnapore's Haldia, is said to be among those ready to cross over.
The desertion bug bit Trinamool's Birbhum bastion as well, where former Bolpur Municipality councillors
Arup Roy
and Shelley Roy resigned on Friday, sparking speculation that they might be joining BJP when Shah visits the district on Sunday.
Aides of arch-rebel Adhikari, who quit TMC on Thursday along with MLA
Jitendra Tiwari
from West Burdwan's Pandabeswar, said he had been flooded with phone calls from disillusioned former colleagues wanting out. The former Nandigram MLA will soon go on a tour of the districts as a BJP member, they said.
BJP sources in Delhi said Shah's Midnapore roadshow with "more than 40" former TMC functionaries, including Adhikari, was intended to send out the message that the saffron party does not lack faces worth fielding in the assembly polls next year.
"There will be a steady stream of exits after Kharmas (a supposedly inauspicious 15-day period running till December 21) and the Mamata government will be in a crisis by mid-January," said
Arjun Singh
, a former TMC member who is now the BJP MP from Barrackpore.
While Trinamool comfortably retains its majority in the assembly, more desertions from its ranks could dent Mamata's aura of invincibility that her second victory created. With politics already taking a violent turn in parts of Bengal, signalling strength is seen as critical in reassuring supporters and winning new adherents.
(With inputs from Sanjib Chakraborty, Sujoy Khanra, Subhro Maitra & Someswar Boral in Bengal and Akhilesh Singh in Delhi)