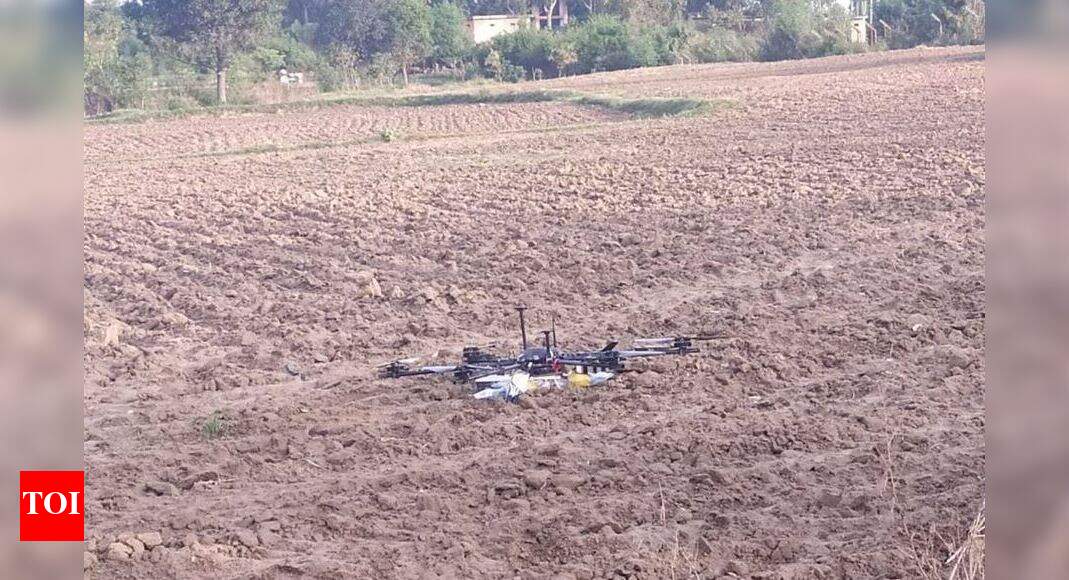 JAMMU/ SRINAGAR: Forefending a major Pak-sponsored terror bid, alert
BSF personnel
on Saturday shot down a "highly sophisticated" drone, carrying arms and ammunition, close to the International Border in the Hiranagar sector of J&K's Kathua district.
"Our troops shot down a Pakistani drone carrying one (US-made) M4 carbine machine, two filled magazines (60 rounds) and seven Chinese grenades, near the IB in Kathua," a BSF spokesperson said in Jammu.
Police claim that the weapons were meant for a
terrorist
named 'Ali Bhai', whose name was found on the drone's payload. The aircraft was probably operated from a Pakistani picket opposite the Panesar post of the BSF deployment in Kathua sector.
Referring to this incident, DGP-J&K Dilbagh Singh told reporters that Pak agencies are trying to arm Jaish-e-Mohammad (JeM) terrorists active in Kashmir with these drone tactics. "One more attempt by Pak agencies to drop weapons across the border using drones foiled at Kathua border," he added.
Around 5.10am Saturday, a group of BSF personnel noticed the hexacopter drone coming from the Pakistan side. The drone was 8ft-wide from blade to blade and flying at a height of about 150-200ft inside the Indian territory near Panesar border outpost in Rathua village of Hiranagar. "The alert troops on the ground reacted swiftly, fired on it and shot it down. On recovery, it was found to be a 'hexacopter (China-made)', weighing about 17.5 kg. The payload capacity of the said hexacopter was on the larger side," the BSF spokesperson said.
Of late, the BSF Intelligence branch has been receiving inputs about the possible use of drones for ferrying arms and ammunition from Pakistan into India, he said. "Accordingly, the troops were put on a high alert and the border domination was exponentially increased." This was the first time that a drone carrying arms and explosives was gunned down by the force in Jammu region.
A few months ago, police recovered similar weapons from JeM terrorists at a location near Jammu. Cops also foiled attempts of weapon smuggling in border areas of Kupwara, Rajouri and several Jammu sectors during the same time, police said.
In January this year, the Punjab police recovered two GPS-fitted Chinese drones — a quadcopter and a hexacopter — 12 drone batteries, some custom-made drone containers, an INSAS rifle magazine, and two walkie-talkie sets, besides Rs 6.22 lakh in cash from an Indian Army soldier and two of his accomplices accused of smuggling drugs and weapons from across the Indo-Pak border in collusion with their Pakistani accomplices. Punjab chief minister Captain Amarinder Singh had handed over the investigation of the drone cases to
the National Investigation Agency
(NIA).
In September 2019, Punjab Police had busted a terrorist module of the Khalistan Zindabad Force and recovered two Chinese drones from Pakistan allegedly used to airdrop arms and ammunition and to villages in Amritsar and Taran Taran districts.
A senior police officer said this is another tactic of Pakistan to send weapons to ultras operating across
the Union Territory
, as terrorists' arms and ammunition stock has dried up in the wake of the recent anti-terror operations in J&K.