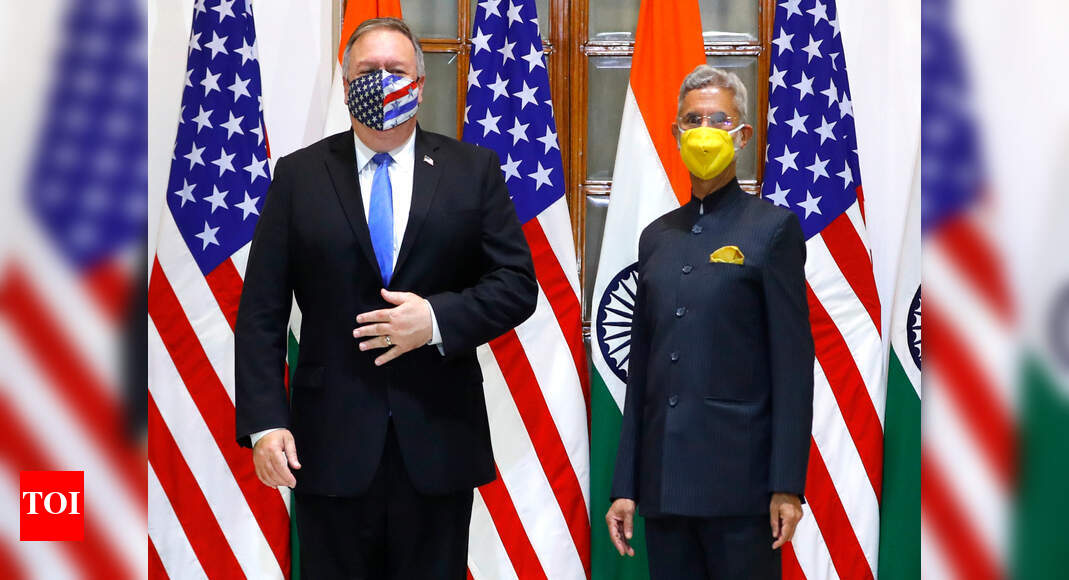 NEW DELHI: "Stability and security in Asia" dominated the discussions when foreign minister
S Jaishankar
and his US counterpart
Mike Pompeo
met this evening for bilateral talks, ahead of the 2+2 meeting scheduled for Tuesday morning.
Sources said after the meeting, both sides, shared views on the "current global situation and its contemporary challenges; discussed our shared concerns and interests including stability and security in Asia, and how best that can be ensured."
The conversation, the last before the US goes to election next week, indicated "progress in bilateral ties over last four years; satisfied that they have grown in virtually every domain including trade, energy, defence and education; practice of consultations on foreign policy issues has also expanded, including regional and multilateral; working more closely in multilateral and plurilateral formats."
Pompeo and US defence secretary
Mark Esper
arrived this afternoon. Apart from the formal talks, the US functionaries will hold meetings with national security adviser
Ajit Doval
and Prime Minister Narendra Modi.
Setting the atmosphere, Pompeo tweeted, "We see each other for what we are: great democracies, global powers, and really good friends."
Regional and international issues are likely to dominate the discussions, particularly the tense India-China standoff in Ladakh. Key to this would be the development of the Quad. On the bilateral front, the two sides will concentrate on energy, health, space, innovation and technology cooperation. Both sides are exploring greater exchanges among parliamentarians with US Congressmen and Senators.
A briefing from the US state department said the recent Quad foreign ministers "demonstrated the strong cooperative ties among Indo-Pacific democracies interested in strengthening a rules-based order in which all nations are sovereign, strong, and prosperous. The Quad has proven to be an effective multilateral mechanism, helping to create resilient supply chains, promote transparency, counter disinformation, and increase maritime security."
It gives a sense of the direction the US wants to take the grouping. Of course, these are the last weeks of the Trump administration and it's not yet clear what the new US administration would prioritise.
In a recent briefing, US official Dean Thompson laid out the agenda for the 2+2 meeting. He said. "The 2+2 discussions will focus on global cooperation, on pandemic response, and challenges in the Indo-Pacific: economic space and energy collaboration, people-to-people ties, and defence and security cooperation. In all of his meetings, the secretary will look for opportunities to expand the US-India partnership in support of our mutual interests during these challenging times."
The focus of the discussions, though, would be on defence and security. India's signing the last foundational agreement, BECA, would seal the interoperability between the two forces. That would have been closely watched in many countries.
The state department
also said, "The United States welcomes Australia joining the Malabar naval exercise alongside India and Japan."