Hello, my Lovelies-
It seems like everywhere you look, there's this thing called Blogging.  Social media is filled with bloggers and wannabe blogging Gods that fill the newsfeeds with their brand of Blogformation.  With all of these different Bloggers selling their own unique brands, it can get a tad overwhelming.  Seriously guys, a budding blogger can get stuck in the research phase for months.
It doesn't matter if you're a Blog PRO or a total NOOB.  There are certain truths in the blogosphere that you should be made aware of.  #10BloggingTruths is a condensed version of what you need to know or do to not only survive, but emerge victorious in the wide world of Blogging.
Let's get to it then, shall we?
#10BloggingTruths                                               
#10- Go big or go home.
Yes, you can get noticed AND make some money with free blog sites.  HOWEVER, if you are serious about Blogging you should just consider it a business cost (an inexpensive one at that) and just buy a freaking domain name.
Let's face it-  Blogging is big and it's growing every day.  Branding, Blogging and Affiliate marketing are the new black.  Blogging is the future of advertising, and dahling, the future is NOW.
Owning your domain is more professional.  You get to 'grab the bull by the horns' and travel your own path.  You get to take control of your future!  But most importantly, you get to tell the 'Rules' to kiss your sweet lips goodbye.  Owning your domain name is the beginning of your budding new business.  Now, you can think outside of the box.  Grow your business in an environment that doesn't even know that a box ever existed.
#9- Rome wasn't built in a day.
Blogging is not a get-rich-quick-scheme.  Some blogs explode from the gates like the Millenium Falcon busting free from Cloud City.  While others, well, they take their time and grow slow and steady.  There are good things to be said about both… but, the truth is this:  It takes a fair bit of time to build an audience.
You need an audience before you can make money.  Your audience needs to believe you and believe IN you before you will ever see a dime from Blogging.
Build your business my young Padawan.  Build it every day and build it real good.  Make a posting schedule and stick to it.  Stick to it and stick to it some more.
#8- Don't keep it on the down-low.
Your Blog is gonna need some serious LOVE.  Love from you means writing, taking (or acquiring) photos, building your blogging EMPIRE (blogpire? hmm I'll think on that one) and letting the world know of its existence.
I know it can be a little scary, or nerve-wracking in the least.  You're putting a part of you out into the world for all to see.  I get it.  There's nothing more terrifying than public scrutiny.  But the flip side to that?  There's NOTHING like the warm and fuzzy embrace of an appreciative comment!  My first 'share' by a total stranger was like winning the Feel-good lottery.  A billion happy feels all at once.
You will need to invest some serious time into sharing your work on social media.  I know… I should practice what I preach.  I'm not super-present on social media yet, but I am truly working on it!  If you are like me, you will have to learn to schedule time each day for social media.  It IS important.  If your content is the blood coursing through your blogs veins, then Social media is the life sustaining Oxygen.  Yeah… it's that important.
Don't be too SHY-SHY (hush-hush) Sorry.  Had to.  If someone comments on your article, you respond.  No excuses.
Get your blog noticed.  Make a serious effort.  That is all.
#7- Become an SEO PRO, not an SEO no.
You HAVE to learn it.  Your blog will not be found ORGANICALLY without it.  This is how the masses of people who are searching for the type of content that you publish will find you.  It doesn't take long to get a basic feel for it, so just consider it a prereq for your business.  Keywords are not just keywords anymore.  Do. YOUR. Homework.
#6- The Times, they are-a-changin'
Blogging is still laying down its foundation as Careers go.  I've watched blogs with SEO expertise go from 1000 visitors a day to 10 a day!  Why?  The search engine changed or tweaked its algorithm.  The most important knowledge you should have when starting a blog is this:  STAY IN THE KNOW.  Make sure you pay attention to your industry, learn and grow with it, or you WILL be left behind.
Becoming a Blogger is like going back to school… Only this time, you have no graduation date to look forward to.  You're basically in the education vortex, and there you'll stay.
Stay relevant my friends.
#5- For a good time, call 867-5309
I mean, ADVERTISE, silly.  You may not want your blog written on the wall in a bathroom, or maybe you do… who am I to judge?  But, at some point you will need to come up with an advertising campaign, promotion, or major marketing plan that will make your blog stand out, stand alone and garner a faithful following.
Business cards are helpful-  But, a featured post on a big blog will practically make you an instant blogstar.  The truth is, there are loads of ways to promote, advertise and grow your blog.  Exercise your grey matter.
#4- Be true to YOU.
It doesn't matter what you blog about, as long as you are into it.  Your readers will know.  It's really hard to fake enthusiasm for a subject you just aren't into.
Write like you talk.  It's ok to break a few writing rules to come off genuine.  Just don't completely butcher the language… you'll alienate readers if you do.
#3- You are a Salesman
Many of you are not gonna like reading this part.  For most of our lives, we've been told that salesmen are sleazy and they are a pushy pain to deal with.  I understand that you, or someone that helped shape your thoughts, may have had a bad experience with a salesman of some sort at some time in your life.  Get over it.  You don't have to be sleazy to be in sales.  It's your choice.
You are selling yourself when you blog.  You are putting yourself out there and showing people that you know what you're talking about.  You show them that you are an expert every time you publish a well thought out, well-researched article.  Accept that being a blogger means you do have a part in sales of a product.
Know the products that you endorse.  You should be able to answer any question about it, or at the very least, know where to get the information.
If you still don't think you're a salesman, then why do you include a 'call to action' in your articles?  A call to action is just a closing strategy.  Learn the basics.
#2-Affiliate marketing is KING
Bloggers make a lot of their money through Affiliate marketing (afmark for short).  There are so many products that offer affiliate programs that you should have no problem finding one (or many) that you really love.  Look, it's not rocket science.  The key to affiliate marketing is to use, love, or believe in the products that you endorse.  It's so much easier to tell people WHY they should love the product too if you are already giving it lots of sugar.
If you've put together a fabulous ebook or eclass (webinars etc included) aside from marketing your package on your own, you can turn it into an affiliate program and let other bloggers make a little something for recommending your products.
Affiliate marketing is growing and it's ok to love it.
#1-Publish or Perish
At the end of the day, it all comes down to this.  You either regularly publish high quality, sought after content or your blog will never survive.  You can be a fantastic writer, but if your only publishing schedule is 'when I get around to it', you will find that people won't 'get around to' reading your blog.
Advertisers don't wanna pay for people to occasionally or maybe see their advertising.  They are paying to get their ad SEEN by your adoring readers.
Write often and constantly sharpen your skills.  Be the best YOU and stick to a publishing schedule.
OH, and for the love of chocolate and all that's gooey, please, PLEASE edit your work.  Better yet, use a writing tool.
Now, go write that epic article and go on with your bad self.
Don't forget to share this!  Show me some love:)
-Nicki
Licensetoblog.com is an affiliate with some pretty awesome brands and products.  The following information contains affiliate links.  They do not cost you anything extra!  We are proud to be affiliated with Grammarly.  If you are ready to improve your writing IMMEDIATELY, use Grammarly for free today.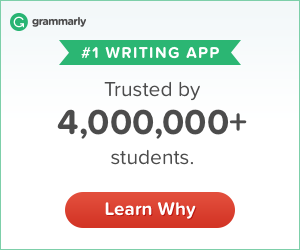 Ready to buy your domain name?  I use namecheap and recommend them to you!  Always get whois guard to protect your personal information.  Looking for hosting too?  Namecheap has what you're looking for!

Ready to start working toward your future today?  Get free training, 2 free websites and the community every blogger needs at Wealthy Affiliate.  Get a free account today.